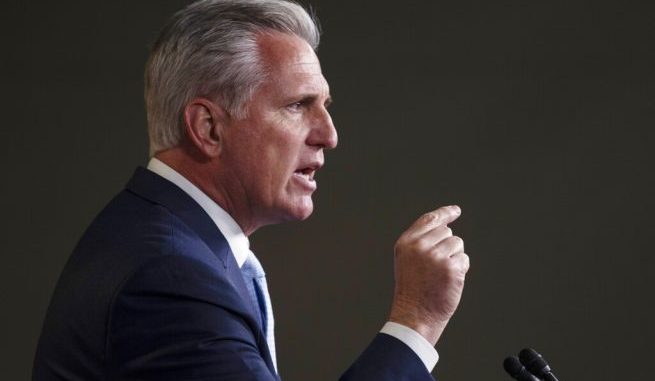 OAN Newsroom
UPDATED 10:22 AM PT — Friday, July 24, 2020
House Minority Kevin McCarthy said Speaker Nancy Pelosi is promoting Chinese Communist Party (CCP) propaganda after she referred to the coronavirus as the "Trump virus."
During a news conference Thursday, McCarthy called out the left by saying everyone knows China is no friend to the U.S. with the exception of Democrats.
The Republican then called on the party to step up and take action against escalating threats coming from the country. He said it's time for lawmakers to stop "cowering" to the CCP as it's time to hold them accountable for all the damage they have caused.
"And right here at home, China's deception has directly led to Americans deaths, China covered up the truth about the virus, China hoarded personal protective equipment and tried to extort other countries for political leverage," McCarthy stated. "Now China's trying to hack our vaccines, which will harm our ability to serve the world and solve this problem."
The Chinese Communist Party cannot be trusted. They have attempted to hack vaccine research and now we find out they were conducting espionage and stealing intellectual property out of their consulate in Houston.

Shutting down the consulate was the right call by @SecPompeo.

— Kevin McCarthy (@GOPLeader) July 22, 2020
McCarthy's call to hold China accountable comes as he's recently introduced legislation called the Defend COVID Research from Hackers Act, which seeks to sanction foreign countries who attempt to steal coronavirus data.