NEW DELHI—A three-month-old baby boy from Nagpur city in central India was COVID positive and his desperate parents reached out on Twitter for help.
A team of volunteers called India Cares connected the parents with a volunteer pediatrician who virtually guided the parents, who were under quarantine. The child tested negative five days later.
"Thank you for arranging the doctor's call. Directions from Doctor were helpful. Baby's second test came negative," the baby's parents said in a message to Pallavi Kulshrestha, the Delhi-based India Cares volunteer who coordinates consultations with a team of 45 volunteer doctors who are attending to patients from around India.
IndiaCares is a citizen's volunteer group of 3,900 people that came together last year during the pandemic when distressed Indians under lockdown started to reach out virtually for help.
Experiencing the unprecedented pandemic and lockdown for the first time, volunteers who had never met each other started to gather on WhatsApp, Twitter, and Telegram, connecting demand with resources.
They came from all walks of life—homemakers, bureaucrats, students, doctors, engineers, and traders—from around India and from among the Indian diaspora abroad. As the group has expanded, so has grown its reach.
Right now the group is needed more than ever. In April India began experiencing a second wave of COVID, setting several world records for the number of new cases in a single day, with 352,991 new cases on April 26. With the surge in new cases there has been a spike in deaths, and some some signs of panic in the population.
In response, India Cares started to come together again to respond to the new rounds of desperate messages. But this time the demands were not like last year when the calls for help were about obtaining food provisions, sending migrants home under lockdown, and coordinating hospital beds.
Though the pandemic is the same, the realities have changed. Keeping in mind the overwhelming need for oxygen, plasma, and hospital beds that certain cities in India are facing, IndiaCares decided to focus on providing online medical consultation, coordinating hospital beds, encouraging people for blood and plasma donation, running an awareness campaign about vaccination, and linking up resources to provide medicine.
So when Dr. Bhavi Vipulkumar Shah, who is based in a small-town called Deesa in Gujarat on the western coast of India, was referred to the 3-month-old's case, the lady pediatrician started helping the young parents who were clueless about how to take the baby's oxygen saturation level.
"And they were asking about whether breastfeeding should be continued or not," said Dr. Bhavi adding that both the parents were COVID positive. "I advised them to continue breastfeeding if the mother is not too ill to feed."
Oxygen cylinder delivered to the lady 👍

Woke up @kishandips at midnight for this task. Have no words to thank him. Not once he showed any reluctance. Also thanking @Choprarun for the help in locating a cylinder supplier at such odd hours. Great support indeed.@indiacares_2020 https://t.co/umFGSBet92

— Arun Bothra (@arunbothra) April 27, 2021
Arjun Bir Sahi, a veteran of India's army and a volunteer with India Cares, helps out with contacts and inputs. He said every volunteer at India Cares works pro bono, and the number is only increasing.
"We have a volunteer in Kolkatta who coordinates the delivery of COVID medicine when people under lockdown reach out to us for help. He sources the medicine from pharma in his city and Blue dart couriers provide free shipping around India while people pay online," said Sahi. He also has a team of professional designers who are working on social media campaigns, designing messages and communication.
Dr. Nikunj Shah, 37, is based in the small city of Nandurbar in Maharashtra state on India's west coast. Shah enrolled with India Cares during last year's pandemic and continues to be available for teleconsultations during the current surge of cases despite being in quarantine after testing positive on April 20.
"Many times people are really panicked. There's a lot of hysteria. There's also not much awareness about how the disease propagates. For example, people don't know that they should check their oxygen saturation level only after walking for six minutes," said Shah. He helps 4-5 people on most days, with the number peaking to 8-10 people on some days.
Shah said being a frontline worker he was vaccinated, and yet he tested positive again. "This time it's mild symptoms. Having gone through it myself I understand people's concerns very well. I'm continuing to help during quarantine because I can't go out. I'm continuing in my way," he said.
Recently Shah was put in touch with an infected senior couple in Delhi who was alone, as their daughter was in London. They were uncertain about whether to take the woman to the hospital or to let her be at home. After speaking with them, Dr. Shah asked them to take her to the hospital as she needed oxygen.
"Care India was able to locate a bed for her. Even when I can help a few people, I'm satisfied," said Dr. Shah.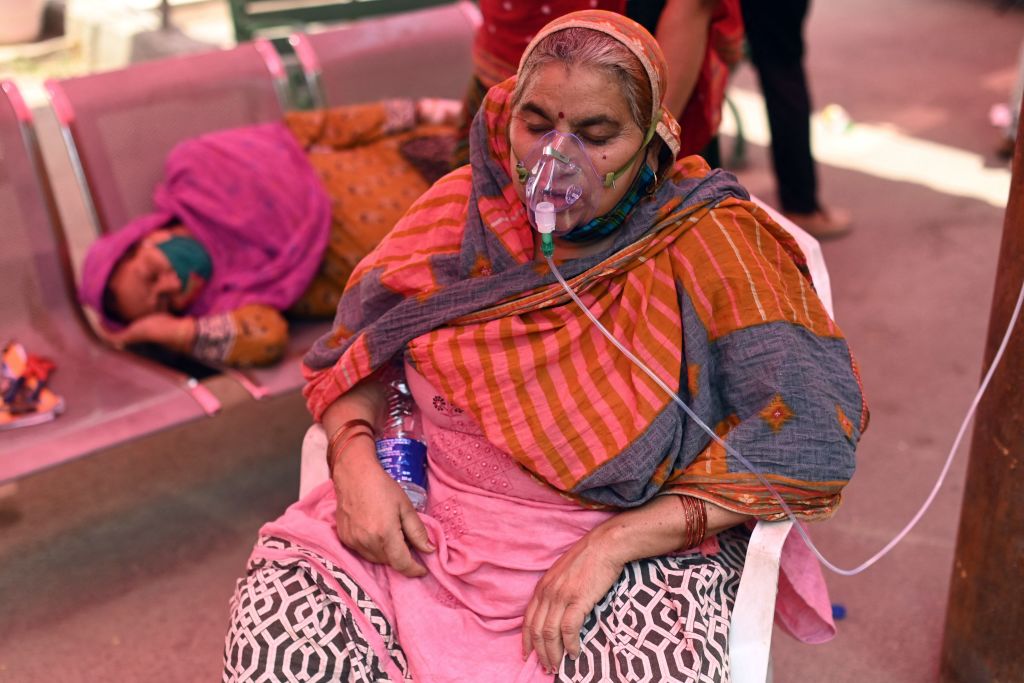 Responding and Managing Trauma
Megha Jain, 29, is a student of chartered accountancy and is the founder of @TeamSOSIndia. This volunteer group numbers 500 people from around the country. They came together on social media last year under the pandemic to connect resources with those in need.
"We used to find distress messages on social media. And we used to see the distress and call them and tried to help them with whatever we could," said Mumbai-based Jain.
"Because when you are suffering and there's a patient in your family, you are in shock. At that moment it's not mentally possible for them to call each and every hospital when you have a shortage of beds and make sure the patient is admitted. So we used to make sure that we are with them. That's how we started," she said.
Jain has continued to attend to messages asking for help despite all odds. Most of the messages are coming from Delhi and the state of Uttar Pradesh in North of India during the current surge and she said the group has now started getting calls from Kolkatta, a metropolitan area on India's east coast.
Jain said her team believes in responding and in working together rather than in complaining and blaming. "Because it is a pandemic and no one knew what is happening. Even the health infrastructure of developed nations couldn't stand this pandemic, right? We know the reality of our country. We are a developing country, we have good infrastructure, but we still won't be able to take this much pressure," she said.
Jain said while responding to the calls for help she has witnessed everyone, "Right from the peon in a government office, till the highest authority to every political party, the ruling and the opposition, everyone is working towards it." When their group is not able to respond to a case, they pass it on to other emergency responders and charities or to whoever can respond, she said.
Jain shared the story of a couple, Rasik Mehta and Kalpana Mehta from the state of Gujrat who lost their son to COVID last year. The couple had a fixed deposit of over $20,000 (15 Lakhs) for their son in the bank.
"Now they broke the FD of Rs 15 lakhs, to help lives of other COVID patients. They have also given their car to be used as an ambulance," Jain shared in a message on Twitter on Saturday, telling The Epoch Times on the phone that it's important to spread positive messages in this state of crisis.
Rasik Mehta & Kalpana Mehta a couple from #Gujarat had a FD for the future of their Son, whom they unfortunately lost to COVID last year. Now they broke the FD of Rs 15 lakh, to help lives of other #COVID19 patients. They have also given their Car to be used as an Ambulance. pic.twitter.com/pCSJdJ7geM

— Megha Jain🇮🇳 (@dramebaz_woman) May 1, 2021
Like the Mehtas, there are many people who have jumped into helping others despite their own loss. The story of an 85-year-old COVID-positive man who gave up his bed to a young man after he saw that man's wife along with their crying children asking the hospital authorities for a bed went viral on Indian media this week.
Jain said the last few days have been very hard for her team because there are limited ventilators and every day they are getting many calls for ICU beds and ventilators. "Then people tell us the patient is no more. That's very disturbing. We literally cry," said Jain adding every day someone in her team has a breakdown.
"It's not just the messages. We are having our own families in crisis as well. But yes, we are working! Every single person has a COVID crisis in the family. The day before yesterday I lost my uncle, a very close person. We are still working. As many lives as we can save, we have to do that," said Jain.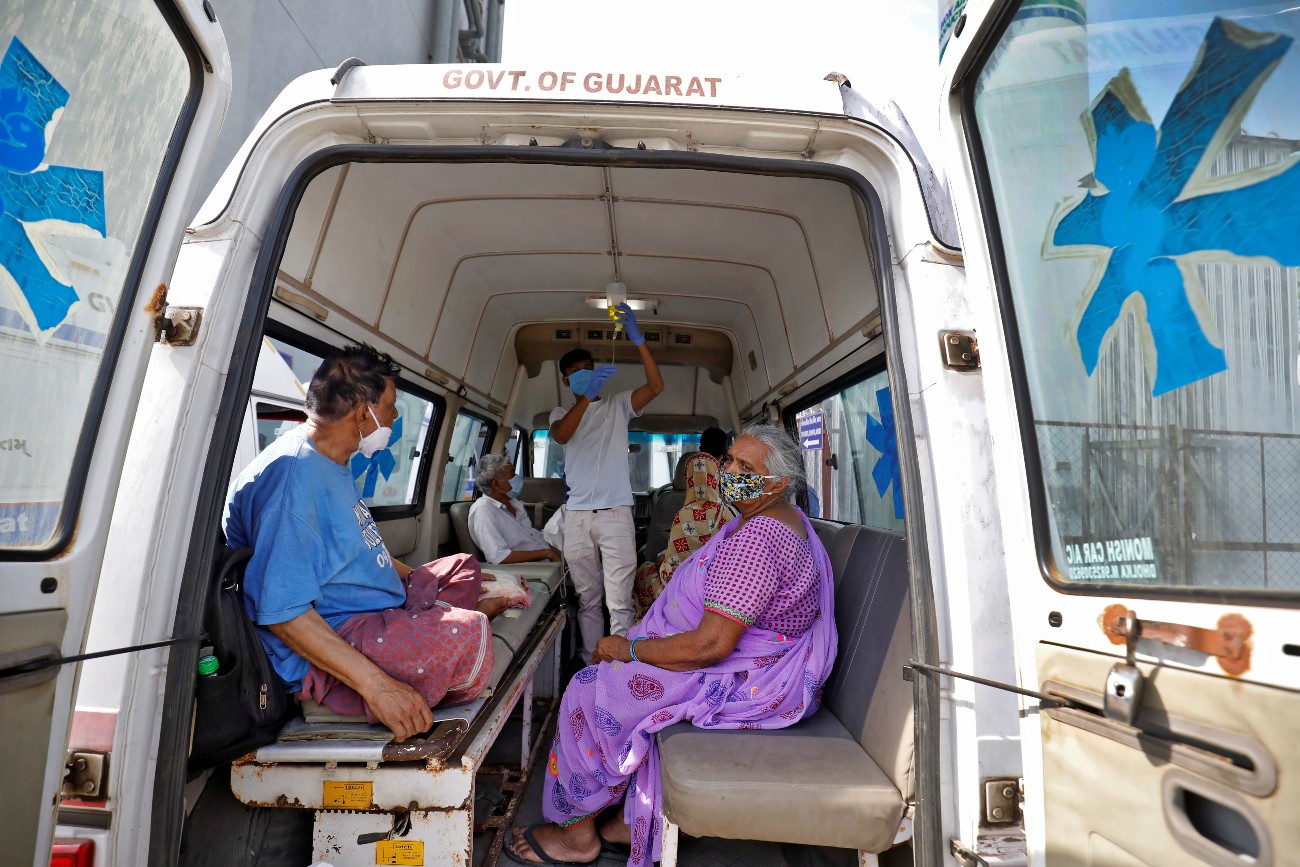 Pro-Bono Counseling
Mumbai North Central District Forum (MNCDF) is a citizens forum of over 40 people that was founded to address various civil issues. After the COVID pandemic began last year, MNCDF started to attend to all kinds of requests for help.
The forum has a 24×7 dedicated team of 20 volunteers who are encouraging people to donate plasma during this surge. "We are overwhelmed with calls and requests for bed admission, plasma," said Trivan Kumar Karnani, 30, the founder of the MNCDF.
Karnani is a criminal lawyer at the Mumbai high court who is providing COVID patients with legal consultations pro bono during the current surge—the legal consultation includes helping people deal with inflated bills.
"There are times when they need us to speak to the insurance companies or to put them under different government schemes that are available," said Karnani adding that there are situations when the hospitals produce inflated bills on COVID medicine on which the federal government and the state government have placed caps.
"A hospital had wrongfully withheld the discharge of a patient who died in the hospital," said Karnani about a recent case he handled. The bills had been inflated, and the family was traumatized. "I intervened up to the management level of the hospital and got an almost 40 to 50 percent reduction."
Karnani said MNCDF during this surge is also working with lawmakers in the civic authority and the state legislature to escalate intervention on critical COVID cases or cases that have gone unattended. "We have worked with the medical teams of a lot of elected representatives."
There are other volunteers and volunteer forums that The Epoch Times reached out to during the current surge. Many worked late nights with no time to attend to media requests for interviews.
"Sorry! Not really in a state to talk with the media at this point. In the last 24 hours, lost 3 people. Left numb!" said one IndiaCare volunteer.
There are forums providing psychological counseling by phone to traumatized family members that The Epoch Times couldn't talk to. A few individuals shared pictures of their workstations—one volunteer called his work station at home a "war zone." Others shared screenshots of messages of gratefulness or messages of tears and loss.