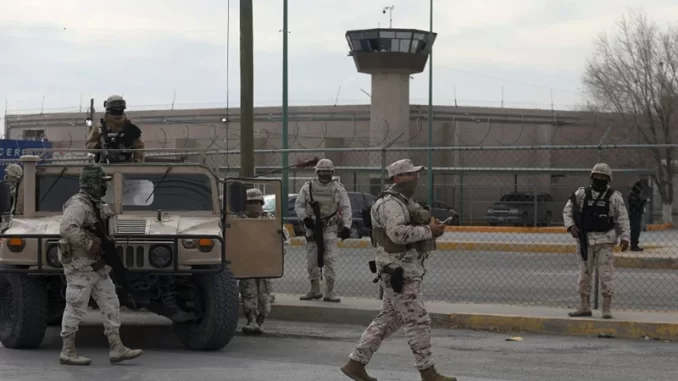 OAN Roy Francis
UPDATED 1:33 PM PT – Monday, January 2, 2023
An attack on a Mexican prison along the Texas border has left 17 people dead on Sunday morning.
Initial reports on Sunday claimed that 14 people were killed in the attack, but that number was later raised to 17 on Monday morning.
Ten prison guards were killed along with a number of inmates when gunmen in armored vehicles attacked a state prison in Ciudad Juarez across the border from El Paso, Texas.
The Chihuahua State Prosecutor's office said that around 7:00 am on Sunday, armored vehicles arrived at the prison and gunmen from inside the vehicles opened fire on the prison guards.
In addition to the 17 that were killed, 13 people had been wounded, and at least 25 inmates had escaped. Reports say that the attack was a brazen operation in order to free the leader of a local gang.
The escaped inmates are associated with the Caborca Cartel along with the leader of the Mexicles' gang.
The Mexicles have been one of Juarez' main gangs for decades and are known to be associates of the Sinaloa Cartel.
The Caborca Cartel had been led by drug lord Rafael Caro Quintero who had been recaptured in July. He had allegedly been responsible for the killing of a U.S. DEA agent in 1985.
Defense Secretary Luis Cresencio Sandoval said soldiers and State police retook control of the prison late on Sunday. The soldiers who retook the prison had also found 10 cells with televisions and other comforts inside, including one that had a safe filled with cash. Authorities had also found a large amount of cocaine, methamphetamine, heroine, fentanyl, and marijuana inside the prison.
Sandoval also said that two gunmen were killed and four were captured when they attacked a local police station before the prison attack. Authorities say that the attack on the police station was most likely a diversion from the prison attack.
Ciudad Juarez has seen violent clashes between security forces and rival Sinaloa and Juarez drug cartels over the past 10 years that have left thousands dead.
According to a report by the State Human Rights Commission released in February, the targeted prison houses more than 3,700 inmates, which is above its maximum capacity of 3,135.