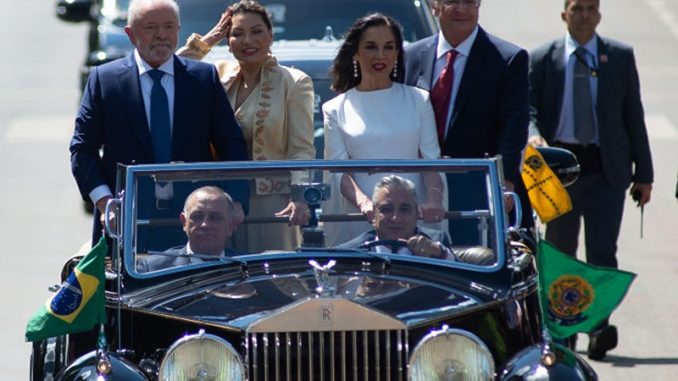 OAN Shannon Kelland
UPDATED 1:35 PM PT – Monday, January 2, 2023
New President, Luiz Inácio (Lula) da Silva spoke about his plans to rebuild Brazil at his swearing in ceremony on Sunday. His return to office represents a political comeback that has thrilled supporters and enraged opponents for the polarized nation.
Lula has assumed office for the third time after defeating far-right incumbent Jair Bolsonaro's re-election bid. Lula has served two terms between 2003 and 2010.
The President began the ceremony by paying respects to the recently deceased Pelé and Pope Benedict with a minute of silence. He then moved on to his speech and his vow to rebuild a country in "terrible ruins".
"I promise to maintain, defend and fulfill the constitution, observe the laws, promote the general good of the Brazilian people, support the unity, integrity and independence of Brazil," Lula said.
The politician denounced the policies of Bolsonaro, who flew to the United States on Friday abandoning his final official duty of passing on the presidential sash.
Lula instilled a message of hope to the people of Brazil and promised to "rebuild the nation and make a Brazil of all, for all."
Lula relayed a speech in Congress' Lower House after signing the document that formally instated him as president.
"Our message to Brazil is one of hope and reconstruction," he said.
Beginning early in the morning, a crowd of Lula supporters gathered, dressed in red, the color of his Workers' Party, to see the ceremony and celebration. Over 60 artists, were booked to perform on two stages decorated with the national flag for a music festival celebration they were calling "Lulapalooza".
"Love has won over hate," was written on a banner carried by a man dressed as Lula in the crowd.
Political analysts concluded that Lula's presidency is unlikely to be like his previous two terms. The race was the tightest presidential run of more than three decades in Brazil, winning on October 30th by less than 2 percentage points.
In previous terms, the Lula administration was known for their welfare program, which helped lift tens of millions into the middle class. This program helped him leave office with a personal approval rating of 83%.
In recent years, Brazil's economy has suffered two deep recessions. First, during the period of his successor and the other during the pandemic.
Lula stated that his priority is fighting poverty, as well as investing in education and health. He has also vouched to bring illegal deforestation of the Amazon to an end. In his campaign efforts he sought support from political moderates to form a broad front and brought some of them to serve in his Cabinet.
Marina Silva, one of Brazil's best-known climate activists, was re-appointed to head the environment and climate ministry. She will spearhead the mission to achieve Lula's pledge, to reach "zero deforestation" in the Amazon by 2030.
Lula also mentioned that his administration would not be motivated by "a spirit of revenge", however, those who had made mistakes would answer for their errors.
Lula's return two decades later comes after stint in prison for 580 days for being accused of corruption. The convictions annulled in 2021 by the Supreme Court who ruled it as a mistrial. Lula's biggest challenge will be to convince those who feel he belongs in jail that he is still trusted and qualified enough to be their leader.
Due to this challenge security presence at Lula's inauguration was high having approximately 8,000 security agents from several security forces on Sunday. Earlier this day a man was arrested in Brasilia after attempting to get into the inauguration party with a knife and fireworks.
This was not the first outbreak of violence over Lula's presidential win. On December 12th, opposition supporters tried to invade the federal police building in Brasilia. They also burned cars and buses in other areas of the city.
Following that event on Christmas Eve, police arrested a 54-year-old man who admitted to making a bomb, which was found on a fuel truck headed to Brasilia's airport. He reported to the police he was ready for war against Communism and that he planned the attack with people he had met at the protests.
The man had been camped outside Brasilia's army headquarters with thousands of other Bolsonaro supporters since November 12th. The incumbent's supporters were gathered in protest of the election results, and wanted the army to step in due to claims unsupported by evidence that the election was stolen.
Bolsonaro condemned the bomb plot in a farewell address December 30th on social media, which took place only hours before flying to the U.S , saying, "there is no justification" for a "terrorist act."
His absence on Inauguration Day marked a break of tradition.