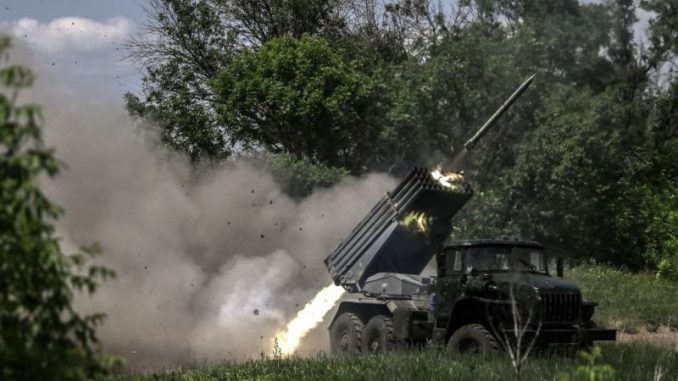 OAN Roy Francis
UPDATED 11:29 AM PT – Monday, January 2, 2023
Ukrainian military forces have conducted a missile strike in the eastern Donetsk region killing dozens of Russian soldiers early Sunday morning.
Reports say that the strike was conducted by Ukrainian forces which included six rockets from a HIMARS launch system provided by the United States. Ukraine was not willing to confirm the details of the weaponry that was used.
 The strike made impact with a building in the City of Makiivka where a large number of Russian soldiers were stationed.
Two of the six rockets were shot down, but the strike had been successful with Ukraine claiming that it had killed around 400 Russian soldiers stationed in the area.
Russian officials along with the defense ministry disputed that number and said that only 63 soldiers were killed.
Past records have shown that Moscow has never confirmed battlefield casualties before. However, this event has changed that stance because of the severity of this attack.
Pro-Russian commentator Igor Girkin contested the Russian numbers saying that in reality, hundreds have been killed and wounded. He admitted that the exact number is still unknown because of the amount of people still missing.
Both sides agree that most of the victims were mainly mobilized troops who were recently conscripted into the Russian military. Ammunition that was stored in the same building had made the damage worse when it was struck.
Russian officials criticized the decision to house that many soldiers in one area at the same time, which goes against military strategy.
Hours after the attack, Russia deployed several exploding drones to Kyiv as well as conducted a missile attack that is seemingly in retaliation for the Ukrainian strike. All 39 drones were confirmed to have been shot down by Ukrainian defense forces with one man was injured during the attack.
Kyiv Mayor Vitaly Klitchsko has said that energy facilities had been damaged in the city, disrupting power and heating supplies.
This missile attack is considered as the deadliest attack conducted by the Ukrainian forces against Russia since the war began in February.