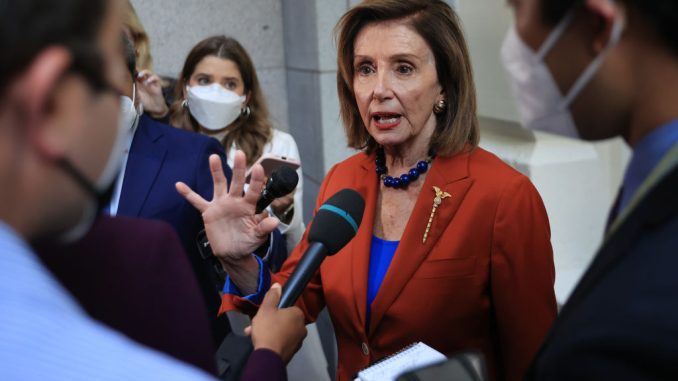 OAN Newsroom
UPDATED 12:58 PM PT – Wednesday, September 29, 2021
House Speaker Nancy Pelosi (D-Calif.) says the House will pass legislation to suspend the debt limit. In a letter to Democrats on Wednesday, Pelosi thanked them for their "patriotism" in last week's vote on lifting the debt ceiling and a continuing resolution.
Today's bill would suspend the federal debt ceiling through December 2022, but has faced opposition from moderate Democrats. On Wednesday, Pelosi slammed those Democrat holdouts and demanded unity. She also blamed Republican extremism for the dire situation, even though Democrats control both chambers and a government shutdown would be a direct result of party infighting.
Capitol Hill has remained divided on the issue as Republicans refuse to support raising it and Democrats refuse to do it by themselves. On Tuesday, the Senate Banking, Housing and Urban Affairs Committee called on Treasury Secretary Janet Yellen to testify.
Starting off, Yellen said that economic calamity and interest rate increases could befall the U.S. if the debt ceiling isn't raised by an appropriate time.
"If the debt ceiling were not raised, I think there would be a financial crisis and a calamity. And absolutely, it's true that the interest payments on the government debt would increase," said Yellen.
"It's necessary to avert a catastrophic event for our economy": Treasury Sec. Janet Yellen urged Congress on Tuesday to raise the debt ceiling, warning that failure to do so could lead the U.S. to default for the first time in history. https://t.co/UYVF93b1UO pic.twitter.com/2ijP8ttPIA

— CBS News (@CBSNews) September 28, 2021
She said she believes that those issues would undermine confidence in the dollar as the world currency, as well as increase interest payments Americans pay for cars and mortgages. Yellen added any issues that come out of this would be entirely manufactured by the U.S. government who could have just raised the ceiling in time.
Democrats have been beating the drum to get the debt ceiling raised and trying to get Republicans to vote with them to do it. Senate Majority Leader Chuck Schumer (D-N.Y.) recently said that Republicans refusing to raise the ceiling were derelict in their duties. He called their move one of the lowest points in the chambers history and said Republicans were the party of default.
"Republicans voted unanimously…unanimously to block legislation, to keep the government open and prevent an unnecessary default on our debt," he said. "Republicans are now the official party of default, the party that says America doesn't pay its debts."
Despite the attacks, Republicans are sticking together in their opposition to a debt ceiling increase.
At the hearing, Louisiana's John Kennedy (R) said Democrats are just trying to put GOP fingerprints onto Democrat spending priorities. He said the solution to the problem is easy, stating Democrats can put an increase in the debt ceiling in their reconciliation package to pass themselves.
Meanwhile, if the debt limit is not raised by Oct. 18, Yellen warned a default could occur within days.
VIRAL EXCHANGE: At today's Senate Banking Committee hearing, Sen. John Kennedy (R-LA) had a heated exchange with Sec. Janet Yellen over the debt ceiling. pic.twitter.com/AMo7jKtBVI

— Forbes (@Forbes) September 28, 2021