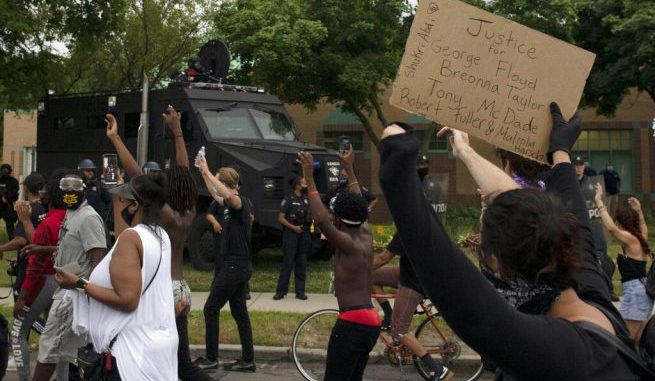 OAN Newsroom
UPDATED 4:10 PM PT —Saturday, July 11, 2020
20-year-old Hakeem Littleton was shot and killed by Detroit police officers this weekend. Authorities released body cam footage shortly after Friday's fatal shooting, which prompted demonstrations against the police.
A tweet urged protesters to gather nearly 30 minutes after the shooting. Witnesses who saw the incident recounted what allegedly happened at the scene.
"He walked into the store, got on his knees, put his hands up and said, 'Don't shoot,'" explained one witness. "They got to firing and shot him."
Protesters demanded body cam footage, which was released immediately and showed otherwise.
"He reaches in his left pocket. As you can see, he's leaning down. Right at this point, pulls out a gun and he fires directly at the officer. We believe, based on our investigation at that point, he fired two shots in quick succession." – Chief James Craig, Detroit Police Department
The following footage could be considered graphic.
Today @ChiefJECraigDPD held a press conference regarding the Officer Involved Shooting Incident that took place on the city's west side @detroitpolice #ProtectandServe #OurCommunity

A Facebook link of the press conference is also attached. https://t.co/NbtgCAGVZq pic.twitter.com/8n36DjCPEy

— Detroit Police Dept. (@detroitpolice) July 11, 2020
According to Craig, officers were in the area to arrest a suspect on a separate felony drug warrant. The man in question, Darnelle Sylvester, raised his hands and showed no resistance while being arrested.
However, Littleton became upset with the arrest. After he opened fire, the three officers returned fire.
"A witness at the scene told investigators that Mr. Littleton stated, and I am not going to say exact verbiage, but basically 'You're not going to take my man,'" explained Craig. "In other words, the interpretation is take him into custody."
Detroit Mayor Mike Duggan has voiced support for the police and their account of the incident, as well as their swift action in releasing the video.
Public confidence requires citizens to be able to judge for themselves the actions of our officers. I commend Chief Craig for moving so quickly to release the video publicly.

— Mayor Mike Duggan (@MayorMikeDuggan) July 11, 2020
The City of Detroit was one of the first in America to outfit its police cars and officers with cameras for this type of incident. The video is clear that the officer was suddenly and unexpectedly fired upon.

— Mayor Mike Duggan (@MayorMikeDuggan) July 11, 2020
Craig acknowledged their urgency to release the video came after erroneous claims were made. One report even claimed Littleton was shot more than a dozen times, when it was in fact four times.
The department announced it's investigating the incident. All officers involved in the shooting have been put on administrative leave.