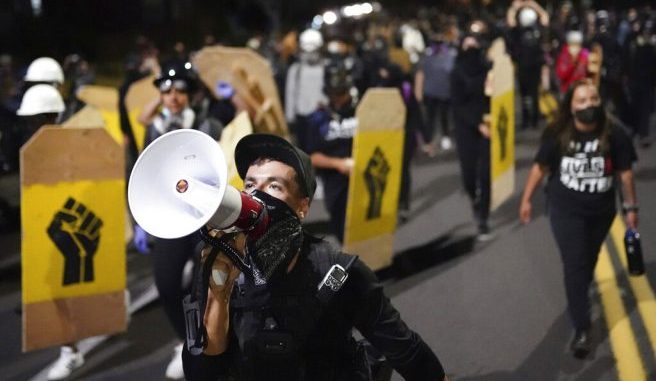 OAN Newsroom
UPDATED 11:47 AM PT – Wednesday, August 12, 2020
The top prosecutor for Portland, Oregon said he has no plans on using "the full force of the criminal justice system" against rioters arrested during the ongoing demonstrations in the city.
According to a statement by Multnomah County District Attorney Mike Schmidt, the new policy will promote a "safer community" and reduce "negative impacts" on a person arrested after a protest or mass demonstration.
The District Attorney's Office will decline to prosecute cases involving interfering with peace officers, second-degree disorderly conduct, criminal trespassing, escape, harassment and even rioting unless the cases involve deliberate property damage, theft or the use of force against another person.
"This policy acknowledges that the factors that lead to the commission of criminal activity during a protest are incredibly complex," stated Schmidt. "This policy acknowledges that centuries of disparate treatment of our black and brown communities have left deep wounds and that the healing process will not be easy or quick."
The policy comes as Portland nears 80 consecutive days of demonstrations with rioters clashing with police in several incidences.
On Monday night, police declared yet another unlawful assembly after a crowd marched on the department's north precinct. According to reports, a group protesting police threw eggs and water bottles at officers. These actions led to the arrest of nine people.
Neighborhood residents are growing concerned as demonstrations spill out of the city into nearby suburban areas. Protests targeting police precincts have largely taken place in residential areas with nearby families saying the crowds are bringing noise and police into usually quiet nighttime streets.
Residents have been taking to social media to voice their concerns, nothing that local businesses have been trashed by "a bunch of entitled kids."
Rioters have already shown their willingness to take their aggression out on residents after a video released Sunday showed people being targeted while still in their homes.
"We're gonna burn your building down"

"We know where you live"

As #antifa have taken to Portland residential areas to riot, they've also assaulted & intimidated residents there. Tonight, they threatened those who looked out the window. #PortlandRiots pic.twitter.com/1qiIOLk99j

— Andy Ngô (@MrAndyNgo) August 9, 2020