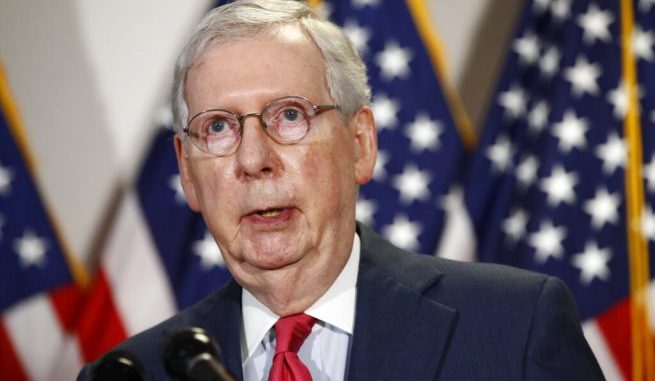 OAN Newsroom
UPDATED 2:13 PM PT — Friday, May 29, 2020
Senate Majority Leader Mitch McConnell (R-Ky.) has confirmed the upper chamber will be taking charge of drafting the next stimulus package. On Friday, the Kentucky lawmaker reaffirmed the next coronavirus relief bill will be the last passed by Congress.
While he didn't go into detail about the contents of the bill, McConnell has said it will not include an extension of unemployment benefits.
"We're taking a careful look at a final bill," he stated. "…It will be narrowly crafted, designed to help us where we are a month from now, not where we were three months ago."
This followed the House's passage of a nearly $3 trillion bill earlier this month, which the GOP has called "dead on arrival."
Meanwhile, Majority Leader Steny Hoyer (D-Md.) has asked House lawmakers to return to vote in late June. Hoyer released a statement Friday, which announced the lower chamber will return to Capitol Hill once the Senate acts on the HEROES bill.
"As we continue to meet the challenge of the COVID-19 pandemic, the House must also continue its work on other critical legislation to address issues of national need and concern," he wrote.
He explained House committee members will prepare "must pass" legislation for immediate voting once members come back.
Washington, D.C. is planning to enter its first phase of reopening next month and House members are scheduled to vote on June 30th.
The House has released its summer schedule.

Next floor votes will be June 30. pic.twitter.com/QYebOMbEzN

— Bloomberg Government (@BGOV) May 29, 2020