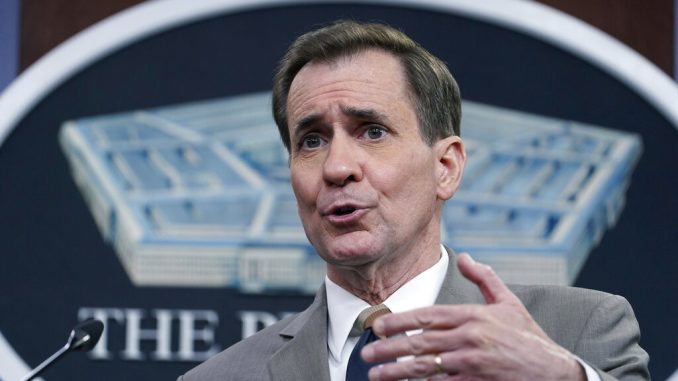 OAN Newsroom
UPDATED 1:36 PM PT – Tuesday, March 1, 2022
Pentagon officials provided an update discussing the upcoming movement of U.S. forces in Europe as well as Russian President Vladimir Putin's actions over his invasion of Ukraine. On Monday, Pentagon Press Secretary John Kirby announced additional security assistance packages coming to the aid for Ukrainians to help them defend their country.
"The kinds of material that are going to be in these security systems packages going forward, I think you've rightly said with detail," Kirby stated. "It's going to be some weapons that can support them on the ground as well as weapons that could support the airborne challenges they have, and I think I think we feel comfortable going about that far."
With the invasion pressing forward, the Pentagon official stressed Russian forces have set their sights on the capital city of Kiev. Kirby also emphasized that they believe Russia's intent is to move into the capital.
"Make no mistake, Mr. Putin still has at his disposal significant combat power," said the press secretary. "He hasn't moved all of it into Ukraine, but he's moved the majority of it. He still has a lot that he hasn't moved into Ukraine…they continue to want to move on Kiev, to capture Kiev, to take Kiev and although we don't know everything about this convoy, it is certainly in keeping with what we believe their intent with respect to the capital city."
However, Kirby commended the Ukrainians for putting up a strong resistance to invading Russian forces while pointing out the setbacks the Russians have encountered.
"What we also have seen is Ukrainians resisting quite effectively around, I think, continuously and they have made it a tough slog for the Russians to move further south," he noted. "The Russians have not only experienced a stiff and determined resistance by the Ukrainians, but logistics and sustainment problems of their own."
This as Russia's nuclear forces were placed on high alert on Sunday, a move Kirby denounced while assuring they are closely monitoring the situation and will take the necessary steps in securing the safety of the the U.S. nation.
"We've seen Mr. Putin's announcement, we believe is as unnecessary as it is escalatory, but we're reviewing and analyzing that announcement," Kirby stated. "And I would only just tell you that that as we continue to review and analyze and monitor, Secretary Austin is comfortable with the strategic deterrence posture of the United States and our ability to defend the homeland, our allies and our partners."
.@PentagonPresSec: @SecDef approved two requests for assistance in and around the Capitol area. The first request was from the DC Homeland Security and Emergency Management Agency. pic.twitter.com/IJdcKVoiyn

— Department of Defense 🇺🇸 (@DeptofDefense) February 23, 2022
In the meantime, Kirby said while its not possible to know exactly what the Russian war plan is for Ukraine, it's believed their plans may have been delayed as a result of the unexpected resistance by Ukrainian forces. Looking ahead, he recommended caution in assessing the situation in Ukraine, especially when it relates to drawing conclusions about Russian military plans, efforts or capabilities.