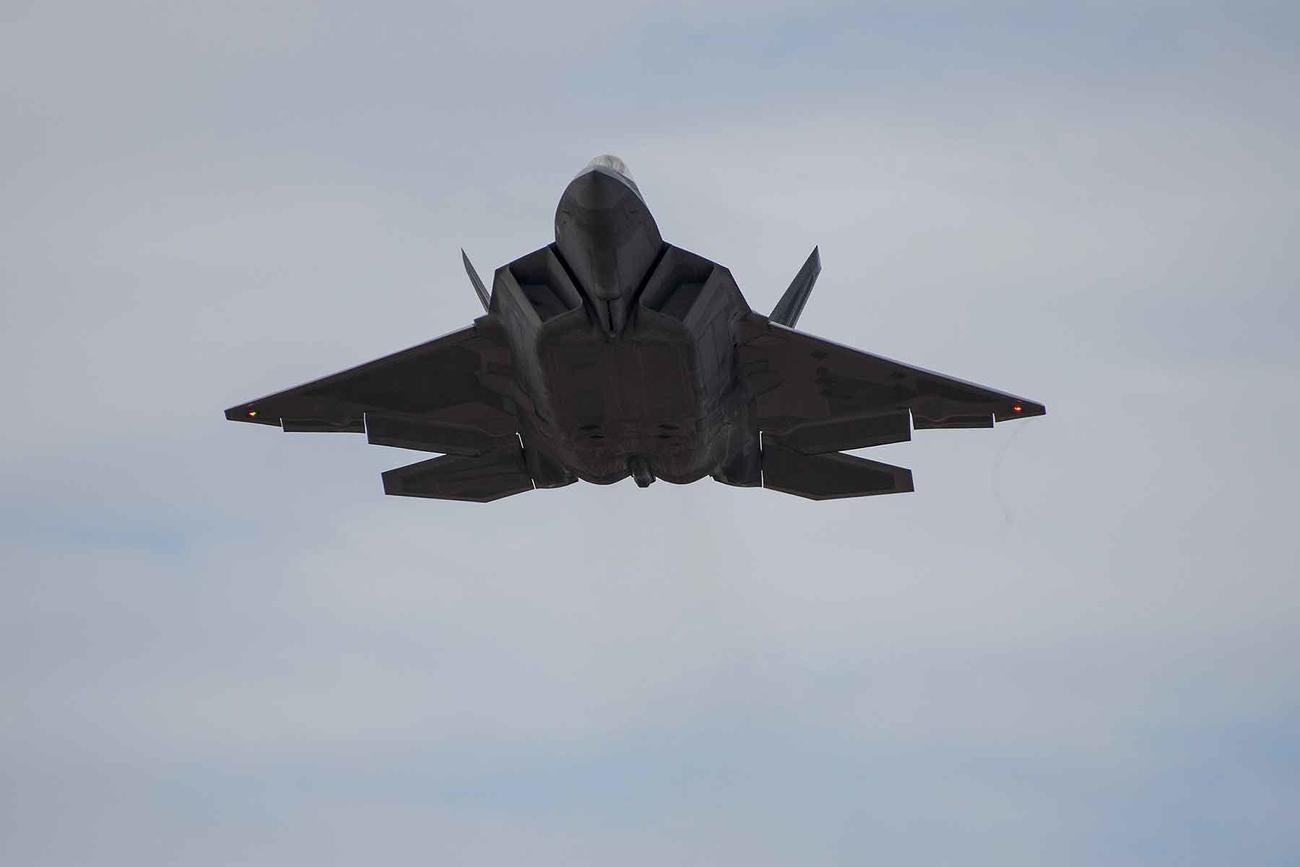 An F-22 Raptor crashed Friday morning during a routine training flight near Eglin Air Force Base, Florida.
The F-22, assigned to the 325 Fighter Wing, crashed at approximately 9:15 a.m. Eastern time, Jasmine Porterfield, a spokesperson for the base, told Military.com.
The pilot was able to eject safely and is being evaluated by the 96th Medical Group at the base, she said. The crash occurred roughly 12 miles northeast of Eglin on the test and training range; no injuries have been reported.
Related: Secret Drone Crash, B-1 Engine Malfunction Among Major 2019 Air Force Mishaps
An investigation into the mishap is ongoing, Porterfield said.
The F-22 was on a routine training mission unrelated to the "America Strong" flyover occurring across Florida's Bay and Gulf counties Friday morning, an Air Combat Command spokeswoman added.
An F-22, F-35 Joint Strike Fighter and T-38 Talon trainers were seen flying in a salute to essential first responders and personnel across the area. The remainder of the flyover was called off after the crash, according to Tyndall Air Force Base.
"Due to unforeseen circumstances, the demonstration team will not be flying over Mexico Beach or Gulf County. We apologize for the inconvenience," Tyndall said in a Facebook post shortly after the crash.
The 325th Fighter Wing is assigned to Tyndall.
Following Hurricane Michael in 2018, the Air Force moved its F-22 fleet from Tyndall, dividing the aircraft between Joint Base Langley-Eustis, Virginia; Joint Base Elmendorf-Richardson, Alaska; and Joint Base Pearl Harbor-Hickam, Hawaii.
Eglin, located roughly 60 miles from Tyndall in the Florida panhandle, also took some of Tyndall's F-22s and T-38 trainers.
The Raptor schoolhouse for pilots, as well as maintenance operations, were relocated to Eglin.
The unit cost for an F-22 was around $150 million in 2009, but some estimates put the per-plane cost at closer to $250 million in current-day dollars.
— Oriana Pawlyk can be reached at oriana.pawlyk@military.com. Follow her on Twitter at @Oriana0214.
Read more: SOCOM Wants Army's Futuristic Troop-Carrying Helicopter
© Copyright 2020 Military.com. All rights reserved. This material may not be published, broadcast, rewritten or redistributed.