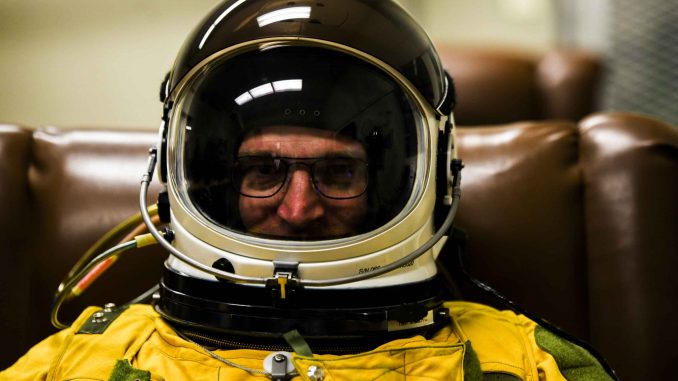 An Air Force reservist has qualified for the first time to fly the U-2 Dragon Lady, becoming one of fewer than 1,500 people to pilot the iconic spy plane.
Maj. Jeffrey Anderson, a former active duty U-2 pilot who switched to the reserves more than two years ago, took a break from flying for Delta Air Lines to requalify on the aircraft, considered among the hardest in the world to fly.
"This is truly amazing," Anderson said in an Air Force statement this week.
Related: The Air Force's Lifesaving U-2 Space Suit Is Evolving to Meet Modern Challenges
Officials at the 9th Reconnaissance Wing out of Beale Air Force Base, Calif., where the aircraft are based, hope to qualify more reservists in the coming years to help address pilot shortages in the service.
"It's really exciting to have the first qualified reserve pilot in U-2 and Air Force history pave the way for other reservists to fly," said Lt. Col. Chris Mundy, commander of the 99th Reconnaissance Squadron, which trained Anderson.
In March, the service was about 2,000 pilots short of the 21,000 it needs to meet its requirements, said Gen. David Goldfein, the Air Force's top officer.
Since then, officials have expressed concerns that the coronavirus pandemic could deepen the shortfall, which was first caused mainly by competition from airlines offering high-paying jobs.
The U-2 pilot corps has lost "a fair amount" of its experienced personnel, but while many of them have switched to the reserves, "we just haven't had an avenue to train them up to fly the aircraft until now," Mundy said in a video Wednesday.
The high-flying single-engine jet, which entered service more than 60 years ago during the Cold War, is unique in the service. The Air Force has 33 airframes in its inventory.
Developed at the Lockheed Skunk Works in Burbank, Calif., the secretive facility that also gave the world the SR-71 Blackbird, B-2 Spirit stealth bomber and F-117 Night Hawk stealth fighter, the Dragon Lady flew its early sorties spying on the Soviet Union. Those included getting photographic evidence in 1962 of a Soviet nuclear missile buildup on America's southern doorstep, which sparked the Cuban Missile Crisis.
In 1960, the shootdown of a U-2 on a CIA reconnaissance mission over Russia resulted in the capture of pilot Francis Gary Powers and the Soviet recovery of a nearly intact airframe.
Due in part to its glider-like long and thin wings, the aircraft flies at the upper edge of the atmosphere to gather imagery and signals intelligence. It's routinely flown at altitudes over 13 miles high, requiring pilots to wear pressurized space suits.
The plane's tricky low-altitude handling, bicycle-like landing gear, long forward nose and "taildragger" configuration make it particularly difficult to land, the Air Force said in a fact sheet.
The modern U-2 program is open to military pilots from every flying background and even transfers from the Navy, Marines and Coast Guard, an online application says.
While Anderson flew U-2s for four years on active duty, he was in a nonflying position in the reserves and didn't think he'd ever fly it again.
"When I flew my last mission, it was sad," Anderson said. "It was the right decision for my family to commit to the reserves and didn't have a slight thought of being back here."
Before getting back into the U-2's cockpit, he trained extensively. Preparation typically lasts nine months and involves survival training, flights in T-38 Talon trainers and flight simulators, the Air Force has said.
Anderson has completed all his "checkrides" and would be able to fly missions downrange, Mundy said.
"Now that we've done this once, we know how the process works," Mundy said. "I think in the next few years we will be seeing more reserve pilots flying the U-2 program, maybe as many as two to three a year."
© Copyright 2020 Stars and Stripes. All rights reserved. This material may not be published, broadcast, rewritten or redistributed.