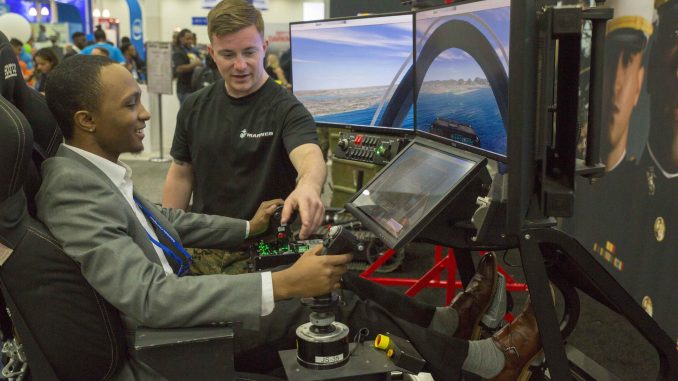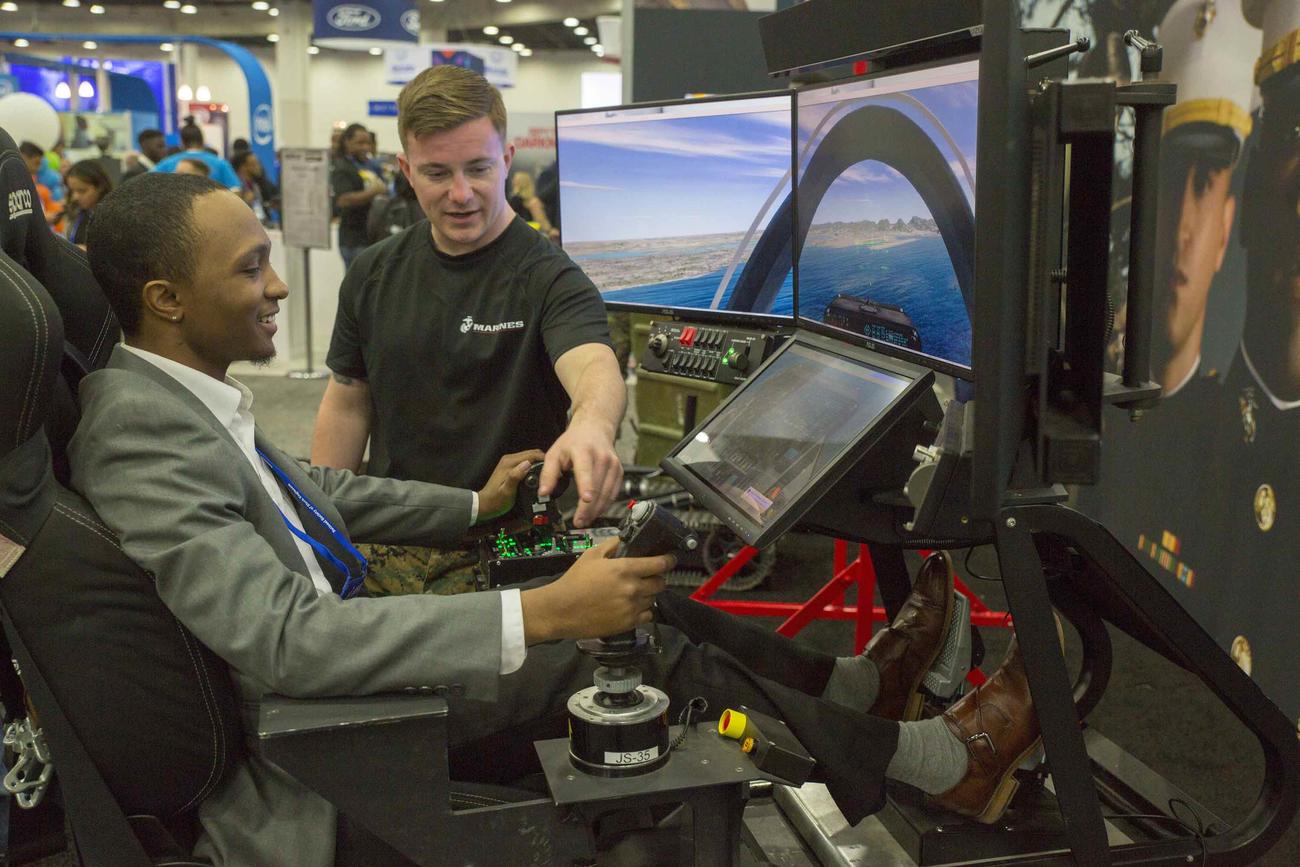 Marine hopefuls could soon land an F/A-18 on a Navy aircraft carrier or fire at virtual targets during low-altitude flights as the Corps looks for new ways to recruit future aviators.
Marine Corps Recruiting Command wants to buy six virtual reality flight simulators it can use at events, according to a new request for information and industry day announcement. The goal is not only to attract pilots with the cutting-edge systems, but also future maintainers and crew chiefs.
Read next: Pentagon Releases Plan for Easing Base Restrictions as States Reopen
"With current technology, a virtual reality user can have a strikingly realistic experience not available in a traditional recruiting setting," said Maj. Brian Spooner, aviation assistant for officer procurement at the Marine Corps' Western Recruiting Region. "An experience like employing an aircraft-mounted weapon system from a UH-1Y could be replicated relatively easily and allow that user to experience something they would never get to do in the civilian world."
The Marine Corps currently uses flight simulators at recruiting events, but they're heavy and tough to transport, Spooner said. The hope is to get a new system that fits into a hard-shell case that can be flown on commercial or military aircraft or transported in vans so recruiters can use them at aviation school classroom talks, air shows, career fairs and other events.
"The intent is to have these units be stand-alone or supplementary to the local officer selection team's recruiting efforts," he said. "The current simulators require a dedicated 35-foot trailer and truck, making them expensive to travel with and unsuitable for transport aboard a number of campuses and venues."
The Marine Corps is inviting companies to present possible systems at an industry day later this year. It might be hosted virtually, the notice adds, due to the novel coronavirus pandemic.
The service in the past offered future officers flights in leased aircraft. That's what Spooner, an MV-22 Osprey pilot, did as a civilian in 2005. While nothing compares to the real thing, he said, virtual reality simulators can be tailored to offer exciting experiences.
Marine Corps Recruiting Command currently has six Redbird F-35 simulators, which cost $110,000 each. It also has 26 Eleetus simulators that mimic MV-22, AH-1Z and F/A-18 flights. Those each cost $44,000 apiece.
And because of their size, Spooner said the command has also purchased or leased trailers to transport the simulators. Those would no longer be needed if the Marine Corps purchases virtual reality simulators.
The military services have faced some challenges in recent years in retaining pilots as commercial airliners offered big sign-on bonuses and more stable schedules. But that could be about to change as airlines struggle to attract travelers amid the pandemic.
"Our projections indicate a fairly steady stream of applicants to our aviation program over the next couple years," Spooner said. "… And the current state of the commercial airline industry will only help to ensure we can select the highest quality aviation applicants who will excel in flight school."
— Gina Harkins can be reached at gina.harkins@military.com. Follow her on Twitter @ginaaharkins.
Related: B-1 Bomber May Become the New Face of US Military Power in the Pacific
© Copyright 2020 Military.com. All rights reserved. This material may not be published, broadcast, rewritten or redistributed.