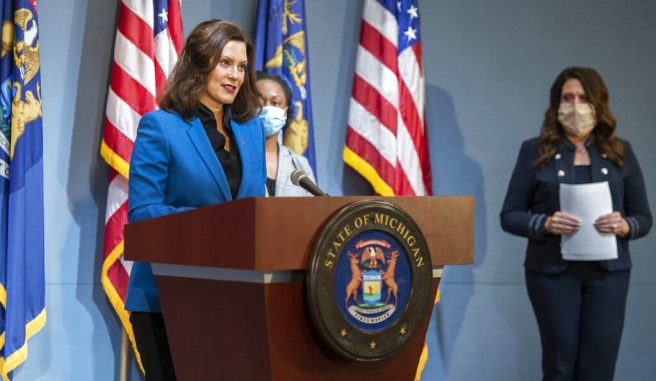 OAN Newsroom
UPDATED 12:45 PM PT — Friday, May 15, 2020
Michigan Governor Gretchen Whitmer stood firm as protests continued over lockdown restrictions this month. On Friday, Whitmer accused the Republican led state legislature of inciting the demonstrations.
Oral arguments also began this week for the lawsuit challenging the extension of those stay-at-home orders. The state capitol was closed on Thursday as the state's House and Senate were out of session.
According to the governor, members simply did not want to be around for the protests. She also claimed protesters are showing up because of politics, not because they are unhappy with lockdown orders.
"When people are showing up with guns, things like confederate flags, it tells you this really isn't about the lockdown or the perception of the stay-at-home order. It's really an organized political statement. It's unfortunate, because we've got to take politics out of this conversation, this is about public health." – Gretchen Whitmer, Governor of Michigan
"The legislature apparently didn't want to be around for this activity that many of them incited, frankly… they decided not to come into work yesterday," @GovWhitmer says about the closed Michigan Capitol amid protests against the stay-at-home order.https://t.co/JpVW1RFd1h pic.twitter.com/yIjAuzR1aj

— New Day (@NewDay) May 15, 2020
The governor and her legal team have argued state Republicans are trying to "build a constitutional crisis atop a public health crisis."
Michigan's stay-at-home orders are set to expire May 28th.
WATCH: Conservative Groups In Mich. Speak About 'Operation Gridlock' Protest Against Gov. Whitmer