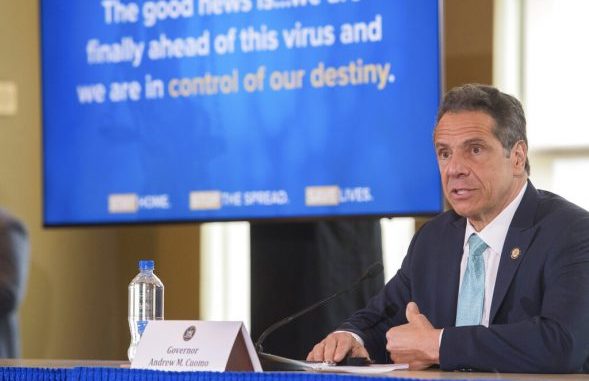 OAN Newsroom
UPDATED 12:24 PM PT — Friday, May 15, 2020
New York entered phase one of its reopening plan on Friday. The manufacturing, construction, agriculture, forestry, fishing and hunting industries will all be back up and running soon.
This came after Governor Andrew Cuomo announced an executive order Thursday, which extended the state's stay-at-home order until at least June 13th. However, five regions will be exempt from some restrictions because they meet certain criteria, including a lower number of virus related hospitalizations and deaths.
The Finger Lakes, Southern Tier, Mohawk Valley, the North Country, and Central NY are ready to begin Phase 1 of reopening tomorrow.

The others can be UN-PAUSED the moment they hit their benchmarks.

New Yorkers be proud. Your actions bent the curve. pic.twitter.com/zSJ5YpyTGY

— Andrew Cuomo (@NYGovCuomo) May 15, 2020
According to the governor, those areas also have sufficient means of testing and personal protective equipment.
"Right now, by the criteria that we have, which is basically from the federal CDC, we have certain regions that are poised to reopen tomorrow (and) other regions where the numbers do not suggest they're in a position to reopen. This is all based on the metrics and the numbers. How many hospitalizations do you have? Are the cases going up? Are they going down? Do you have your testing in place? Do you have your tracing in place? Obviously we have different rates of infection across the state, hence the variance in opening times." – Andrew Cuomo, Governor of New York
Of the seven total requirements needed to enter phase one, New York City still needs to meet at least three benchmarks. The city has largely been the epicenter of the COVID-19 outbreak in the U.S. with more than 348,000 cases reported.
MORE NEWS: Over 100 Inmates Rearrested In N.Y. Following COVID-19 Release