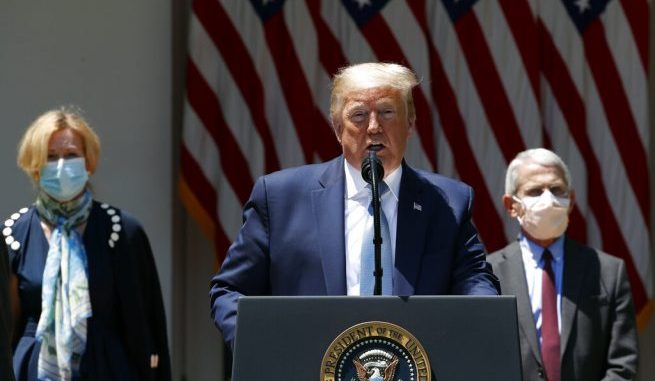 OAN Newsroom
UPDATED 1:30 PM PT — Friday, May 15, 2020
President Trump recently delivered remarks on 'Operation Warp Speed,' the new White House initiative to speed up work on a viable COVID-19 vaccine. On Friday, the president announced "tremendous strides are being made" in development of vaccines and medications against the disease.
Operation Warp Speed is "a massive scientific, industrial, and logistical endeavor unlike anything our country has seen since the Manhattan Project." pic.twitter.com/dkfU3vPnnA

— The White House (@WhiteHouse) May 15, 2020
The president also praised General Gustave Perna of the U.S. Army Materiel Command and pharmaceutical executive Moncef Slaoui, who have been tapped to run the initiative.
"I am really confident that our team across the many government agencies that are involved in this effort,…with the support of the army and our partners in the private sector, we'll be able and do the utmost to deliver these objectives," stated Slaoui.
Recent data "made me feel even more confident" that a vaccine will be available by the end of 2020, Dr. Moncef Slaoui says. pic.twitter.com/ToAVI5ksHw

— The White House (@WhiteHouse) May 15, 2020
As a result of the initiative, they are hoping to see a viable vaccine by the end of the year.
"I also feel very confident the team will be able to provide the results as directed," said General Perna. "It is going to be a herculean task, but the combination between Health and Human Services and the Department of Defense, their combined strengths,…will ensure our success."
Health and Human Services Secretary Alex Azar also touted the president's initiative. In a video released by the White House on Friday, he described the operation as a historic push to bring coronavirus vaccines to the American people in record time.
According to Azar, President Trump first launched the effort after saying pharmaceutical companies' timelines for producing a vaccine were unacceptable.
He added government entities like Health and Human Services, alongside the Defense Department, have been working day and night since January to find a vaccine.
"He's launching Operation Warp Speed, which is going to compress and wring out every inefficiency in the process," explained Azar. "(It will) take away every unused day and also scale up manufacturing, so that as we get vaccines that work, we'll be able to distribute them right away."
President @realDonaldTrump has launched Operation Warp Speed: an historic push to bring Coronavirus vaccines, therapeutics, and diagnostics to the American people in record time.

More from @SecAzar: pic.twitter.com/8MCQMDumnn

— The White House (@WhiteHouse) May 13, 2020
He noted President Trump is setting ambitious goals and has the right team in place to make it all happen.
MORE NEWS: CDC Publishes Reopening Recommendations For Businesses, Consists Of 6 Sets Of Checklists