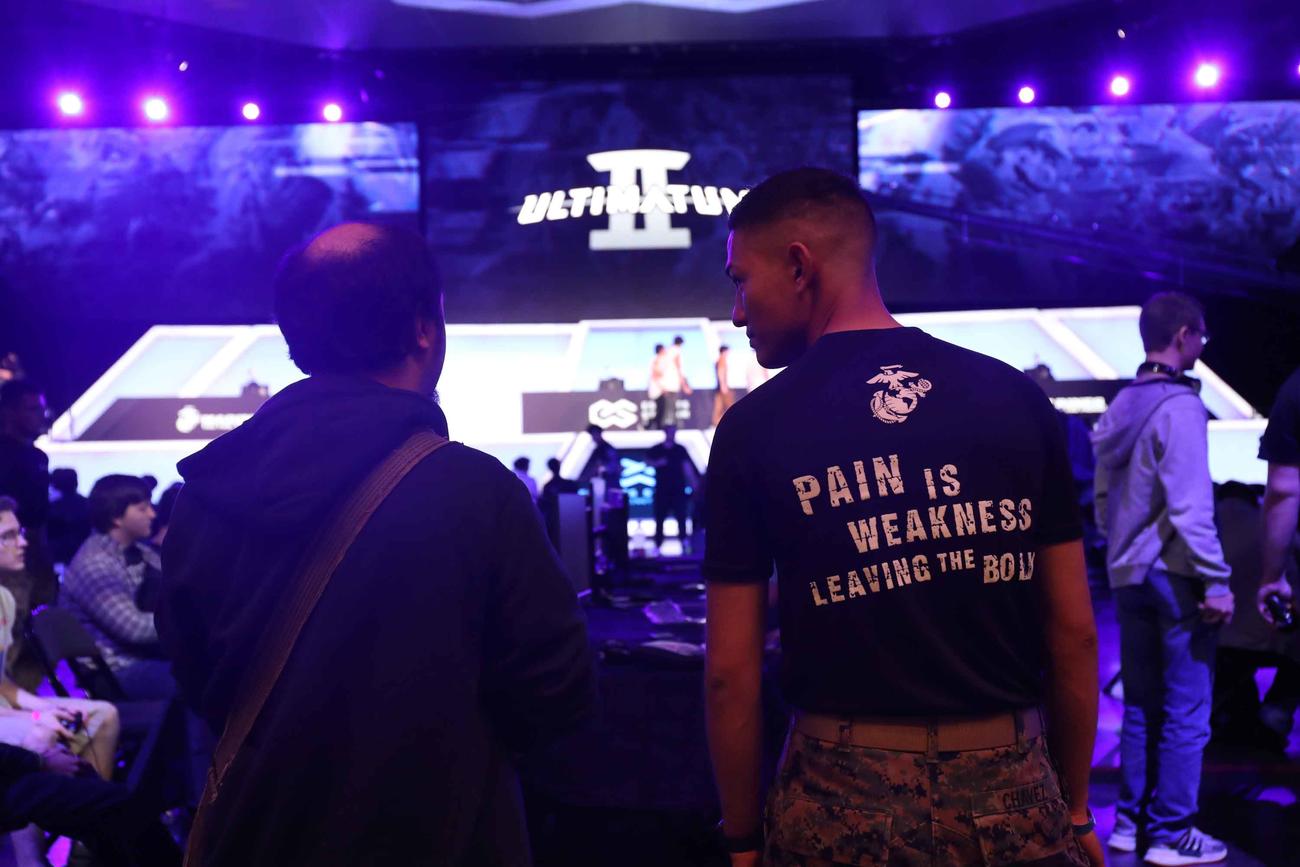 It may be well after dark on a weeknight, but the Army's newest recruiting assets aren't sleeping.
A soldier who goes by the nom de guerre Nelpy is in a sporty gray jersey with an American flag patch on the right shoulder, live-streaming his play through the shoot-'em-up game Valorant from the official Army Esports Facebook page. As he expertly cycles through weapons ranging from an elaborately serrated dagger to a fanciful bolt-action rifle, his digital opponents drop with grunts and a spurt of pixelated blood.
When the Army kicked off its esports team in late 2018, it had 7,000 applicants for just 16 spots. Team members now stream their gameplay around the clock on Twitch, Discord, Rivals, Mixer and Facebook, generating leads and having conversations with members of the "Gen Z" target recruitable population long after the recruiting offices are closed for the day.
Related: Calling All Gamers: The Army's Esports Team Is Ready for Its Close-Up
In fiscal 2019, Army esports generated 3,500 recruiting leads, said Lisa Ferguson, media chief for Army Recruiting Command. In this fiscal year so far, the effort has generated more than 13,000.
Facing tight recruiting quotas and a young population that is more challenging than ever to reach, other services have rushed to field their own esports teams. The U.S. Navy team, Goats & Glory, is currently in the process of selecting full-time competitive members, and the Air Force announced in April that it's recruiting its own cadre of gamers.
One notable exception to the U.S. military's embrace of esports, however, is the Marine Corps. Despite having the youngest population of any of the services, the Corps has no plans to field an esports team. And its reasons for abstaining are, at least in part, ideological.
"The national marketing brand strategy does not include future plans to establish eSports teams or create branded games," officials with Marine Corps Recruiting Command wrote in a document submitted to the Defense Advisory Committee on Women in the Services last year. "This is due in part to the belief that the brand and issues associated with combat are too serious to be 'gamified' in a responsible manner."
As games reach new heights of sophistication and realism, and military drone pilots deal death from halfway around the world with a joystick, it can certainly be argued that the line between games and warfare has grown thinner than ever.
"With the Marine Corps brand, we are very strategic in how we activate that brand and how people interact with it," Capt. Michael Maggitti, marketing and communications officer for the 8th Marine Corps District, out of Fort Worth, Texas, told Military.com. "It could be some people's first time engaging with the brand, and it's a very serious decision to serve, and there's concerns over gamifying what we do and the translation between video games and actual military service."
But as games become an increasingly large portion of the entertainment pie for young people — 72% of men and 49% of women ages 18 to 29 play them, according to Pew statistics cited by Ferguson — not even the Corps can afford to sit out the action entirely.
In January, the service launched its Academic Excellence Program in partnership with Esports Stadium Arlington, Texas, offering hours of free gameplay to high school and college students who get A's in their classes. Recruiters have also shown up at the stadium in Arlington — North America's largest — during tournaments to hand out branded gear and chat with prospective recruits.
The benefits to being in the esports space are easily quantifiable.
"So we see the same values in traditional sport. That's teamwork, strategy, communication, explicit communication that you see on and off the field," Maggitti said. "And … there is that technical affinity piece with all the majority of these folks who play video games, is, they aspire to do things that require high acuity, high cognition; they want to work in tech. And there are many career opportunities within the Marine Corps within cyber communications, or drone operations, electronic warfare."
When discussing the Marine Corps' objections to fielding an esports team, officials are careful not to disparage the other services' decisions and hesitant to talk about what the battlefield outcome of a "gamified" approach to warfare might be.
Instead, they allude to the Marines' internal concept of exceptionalism: the same concept that has often led the service to choose its own path. The Corps, for example, was the last service to generate its own special operations command, and its creation came over the objections of leaders concerned that some Marines would be perceived as more "elite" than others.
Service leaders now face fierce criticism over continued gender-segregated training in Marine Corps boot camp, a model the other services have long since abandoned.
"Our position or our belief is that we are different from the other services. It's just a matter of how maybe slowly and deliberately we have tread through these waters over the years from our initial kind of approach," said Dan Weidensaul, the Marines' deputy assistant chief of staff for Marketing, out of Quantico, Virginia. " … We certainly believe in the seriousness of what mission the Marines perform. And we can only speak for ourselves and in how we want to ensure that that is not, you know, gamified and trivialized and thought that it's something that can be reduced to that format, per se."
Weidensaul and Maggitti stressed that resources are also a concern: The Marine Corps has the smallest budget of any of the military services, and esports sponsorship costs can mount. The Army says it has spent $1.5 million so far to create and develop its team and send members to tournaments.
But Army and Navy officials also acknowledged concerns cited by the Marine Corps about blurring the lines between real combat and gameplay.
The Army's team now includes Sgt. 1st Class Joshua David, who deployed four times with Army Special Forces teams as a Green Beret, and now wages digital warfare under the handle Strotnium.
David often gets asked to compare his combat experience to the games he plays, said Sgt. 1st Class Christopher Jones, the noncommissioned officer in charge of the Army's esports program, based in Fort Knox, Kentucky.
"He'll tell every single person that we engage with that there's no comparison between the two," said Jones, an avid gamer himself. "There's no way soldiers are going to carry 90 pounds' worth of equipment moving in an environment like that, essentially superhuman. You know, these environments are made up; they're fictional."
He added that as Army esports team members participate in chats and conversations with fellow gamers, they're careful about how they steer the conversation.
"We'll talk about real experiences — speak about, you know, a specific person doing specific things in the Army, not seeing it through the lens of the game," he said. "So, when you're talking to that person, you're going to talk to that person based on the experiences they've had in the Army. Not fictional experiences within the game."
Army officials, Jones said, also pay attention to game content concerns.
"If there's anything that will stick out where we feel it's not appropriate, then we won't engage," he said.
The Navy, which is still in the process of selecting the 10 members for its competitive esports team, has decided it will focus its efforts on just one game: a militaristic first-person shooter called "Counter-Strike: Global Offensive." The AmericasNavy Twitch channel, where members of the service's esports initiative are already streaming gameplay, has racked up more than 1,000 followers and close to 800,000 views since launching in late March.
Allen Owens, deputy chief marketing officer for Navy Recruiting Command, described dropping in on a gaming session in which Lt. Aaron Jones, a naval flight officer who once flew the E-2D Advanced Hawkeye airborne early warning aircraft, described what it feels like to land on an aircraft carrier.
And he was talking about, in detail, "Oh yeah, there's wires that go across the deck, and there's a hook that catches on the wires … it's an amazing feeling," Owens said. "And he's talking, you know, from a first-hand experience of landing onboard an aircraft carrier. So, you know, some of the very things that people have done in games, he's able to actually kind of describe what it feels like."
Rather than trivializing warfare, connecting with young people via esports may offer an opportunity to share information about the realities of military life, Owens said.
"That's kind of the great thing about this: We could be playing with someone and like, let's say they're, you know, they're shooting a sniper rifle and they hit someone and then the comment is, 'Wow, you've got a really good shot, is that what you're good at?' And then that opens the door for that authentic conversation to be like, 'Well, actually, I'm, an aircraft mechanic or I'm a, a nuclear engineer, or a cryptologic technician,'" he said. "Our guidance to the team is to be authentic, to be real, and to showcase what they know about the Navy and what Navy life is like."
— Hope Hodge Seck can be reached at hope.seck@military.com. Follow her on Twitter at @HopeSeck.
Read more: The Marine Corps Is Forming a First-of-its-Kind Regiment in Hawaii
© Copyright 2020 Military.com. All rights reserved. This material may not be published, broadcast, rewritten or redistributed.