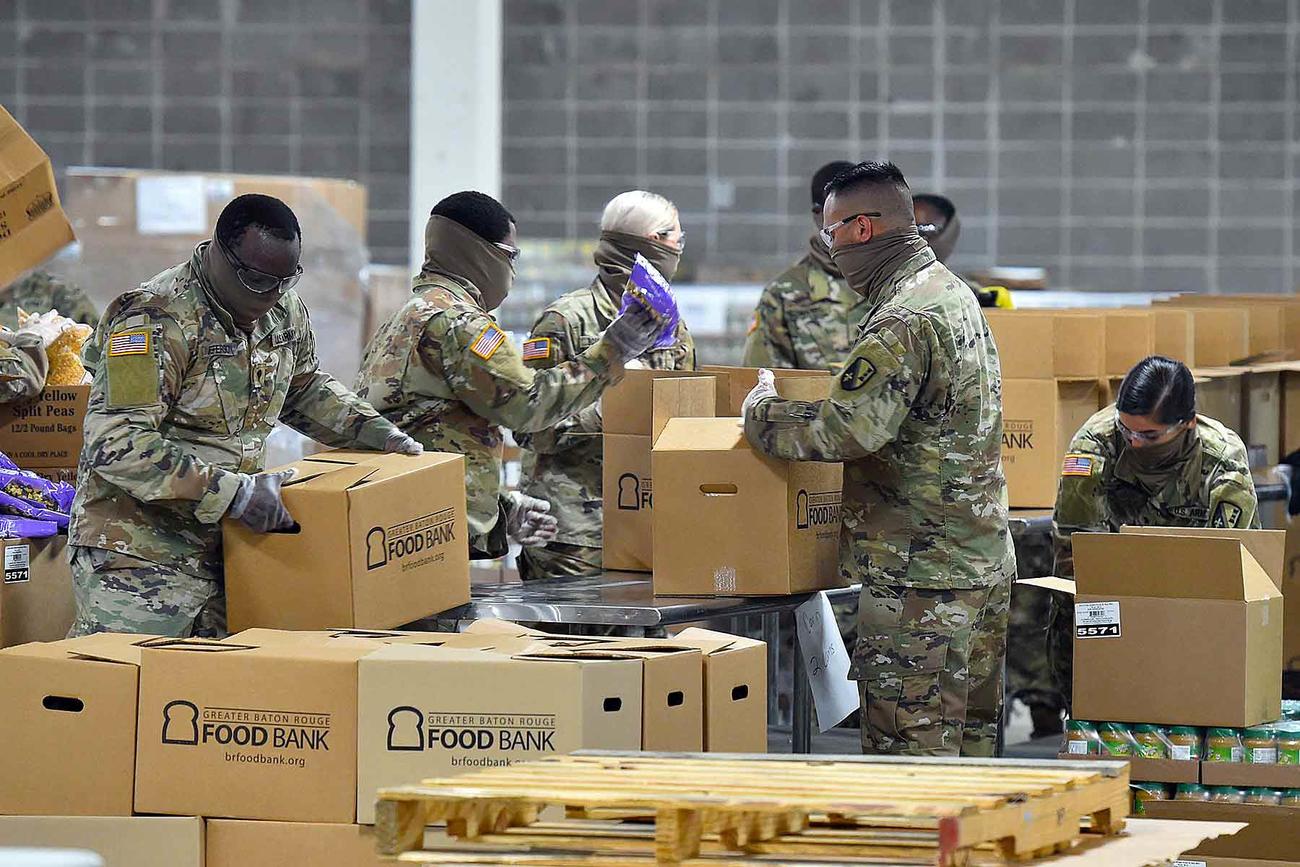 In the immediate wake of the Sept. 11, 2001, terrorist attacks, thousands of National Guard members in New York, New Jersey, Pennsylvania and Virginia were called to active duty in support of their state's defense and recovery, sacrificing the federal drilling points they would have earned toward their retirement as they completed the state mission.
It was an extraordinary situation, and Congress ultimately intervened, crafting a narrow exemption that allowed state activation in these instances to count toward a Guard member's retirement.
Now, as the nation contends with another extraordinary event in the form of the novel coronavirus pandemic, some are once again looking to Congress to step in and provide relief to Guard and Reserve members whose careers might be at risk due to circumstances outside their control.
Related: The Latest on the Military's COVID-19 Response
Social distancing measures to limit the spread of the virus have forced Guard and Reserve units to suspend, postpone or reconfigure regular drill periods — training opportunities worth points many need to earn a "good year" toward retirement. And while officials with the military services and the National Guard Bureau say they're working to find other ways to accomplish training, there's no holistic waiver or adjustment that accounts for disruption due to the pandemic.
The Navy, for example, moved in mid-March to postpone drill weekends for most reservists, a suspension that has now been extended through the end of May. While units were directed to work with members to reschedule and to grant liberal waivers, there was no guarantee that reservists would be able to make up requirements. The Marine Corps also moved to suspend Reserve drilling indefinitely, while the Army postponed Battle Assemblies. The Air Force enforced a stop-movement order, but encouraged commanders to find creative ways to make up time.
Susan Lukas, legislative director of the Reserve Officers Association, said that some Guard and Reserve members are more at risk of losing out than others — those nearing retirement, for example, or who mark the end of their contract year in spring, leaving little room to reschedule missed drill periods.
To earn a "good year" that counts for retirement, members must earn at least 50 points — 35 on top of the 15 they are credited for membership. Each day of active service, drill period attendance and funeral honors duty is worth one point each; a typical drill weekend is worth four points total. Guard and Reserve members need 20 "good years" to be eligible for retirement.
Lukas said her organization is proposing a law that would grant constructive credit for this year for drilling members of the Guard and Reserve, making up the difference in career points they need, up to 50. It's a better option, she said, than a Defense Department waiver or allowance, because service members would not be obligated to keep their own records or make their case to the military accounting system.
"Twenty years from now, when [the Defense Finance Accounting Service] is reconciling [members'] record to make sure they have 20 years, who's going to remember that this year was a waiver year?" Lukas said. "The members would then have to do an appeal. I just saw a waiver as a bureaucratic nightmare for the member when it comes time for them to retire."
Frank Yoakum, executive director of the Enlisted Association of the National Guard of the United States, said the idea that drill periods and battle assemblies can just be replaced by virtual sessions and video chats doesn't take into account the many military jobs that are hands-on. Making up drill periods virtually, he said, is at best an extremely temporary solution.
"I get [using] Zoom … but there's really only so much you can do at home for certain jobs," he said. "If you're talking about an infantry unit or an artillery unit and their job is to go out and fire artillery pieces or to perform weapons maintenance or perform maintenance on wheeled vehicles, you can't really do that virtually. That's not why you joined the Guard."
He added that many Guard members remain on state active duty, where they are supporting pandemic response, but not accruing retirement points. As of late April, according to a Military Times report, roughly 80% of Guard members were on federally funded Title 32 orders; but nearly 8,000 guardsmen continued to support state response only, with lesser benefits and no retirement credit.
"Maybe if your retirement year just started in March, you've got time to make up this year," Yoakum said, noting that each service member is on a different calendar based on when their initial contract began. "But if it started in January or February … you might be worried."
And it's not just about retirement, he added.
"In the Army regulations, there are penalties for not getting a good retirement year," he said. "If you don't get a good year one year, they could throw you out of the military for unsatisfactory participation. I would hope that somebody in DoD or the Army … would take a look at that."
At least one military service has already expressed interest in finding a legislative solution for the problem.
Air Force Reserve policy teams are working with the Defense Department "on potential legislative relief for those Reserve members who may not achieve enough points for a 'good year' due to COVID-19 restrictions," Bo Joyner, an Air Force Reserve Command spokesman, told Military.com in a statement. "As this becomes available, that information will be disseminated to our Citizen Airmen."
Joyner added that the Air Force is also encouraging Reserve commanders to group their Unit Training Assembly drill periods into "super UTAs" later in the year and maximize telework and virtual training to reduce the impact of suspended drill periods.
The Navy has announced a number of mitigating measures for reservists, including a liberal telework policy and extended deadline to support participation waivers.
"In order to help ensure our Reservists maintain readiness and get credit towards their 'good year,' we are making it significantly easier to telework," Navy Reserve Forces Deputy Commander Rear Adm. John Schommer said in a statement. "Our intent is to provide maximum flexibility for our Selected Reserve (SELRES) Sailors and set them up for success during these challenging times."
Marine Corps Reserve officials also said they are turning to telework wherever possible to help reservists stay current on career points.
"With regard to annual training, we, along with the other military reserve forces, are working closely with the Department of Defense to assess impacts and determine options to unforeseen challenges," Marine Forces Reserve spokesman Capt. Markian Sich said.
Army officials, who released a lengthy "Frequently Asked Questions" document regarding pandemic-related concerns, are leaning heavily on "Virtual Battle Assemblies" to take the place of all in-person drill periods. For job specialties that don't lend themselves to virtual training, an official told Military.com that unit commanders have discretion on how to structure training and currency requirements.
A Defense Department spokeswoman, Jessica Maxwell, declined to comment on any legislative proposals that might be under consideration to help Guard and Reserve members. She referred Military.com to documents published by the DoD that emphasize telework options for drill periods.
"We are doing everything within the confines of statute to remedy this issue for our Service members," she said. "We are unaware of a situation that is not covered by the policy flexibilities discussed in the previously provided documents."
April Cunningham, a spokesperson for the National Guard Bureau, also highlighted the flexibility being provided to commanders to reschedule drill, make it virtual or authorize an alternative place of duty for Guard members.
"The flexibility is intended to provide alternative ways to fulfill unit assemblies at the same location in order to acquire drill credit or points for retirement," she said. "Additionally, individual members can always work with their Commanders for approval of limited equivalent training, when they cannot meet the requirements of the scheduled training plan (including re-scheduled, alternate location plans) due to personal issues."
For Guard and Reserve members, the good news is that there is some time to build in a legislative fix for anyone who can't use one of the options provided to earn their "good year."
Yoakum said constructive credit can be approved retroactively by Congress — and that it's a step that can be taken after the most pressing pandemic response issues have been addressed.
"I think they've got a good six to nine months to work on this, really," he said.
— Hope Hodge Seck can be reached at hope.seck@military.com. Follow her on Twitter at @HopeSeck.
Read more: The Marines Wanted a University to Study Co-ed Boot Camp. No One Applied
© Copyright 2020 Military.com. All rights reserved. This material may not be published, broadcast, rewritten or redistributed.