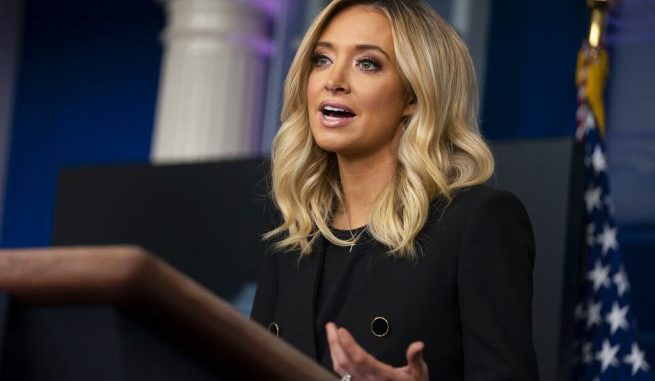 OAN Newsroom
UPDATED 1:45 PM PT — Friday, May 1, 2020
White House Press Secretary Kayleigh McEnany weighed in on the case surrounding General Michael Flynn during her first formal briefing at the White House. On Friday, she stated Americans should be scared by the recent revelations surrounding Flynn's case, specifically the FBI's alleged misconduct.
McEnany also addressed the sexual assault allegations against Joe Biden. She noted President Trump was pleased the former vice president took his advice and spoke out on the matter.
She went on to say that despite recent findings, which claimed COVID-19 was not manmade, the president is still not convinced and the U.S. will continue investigating its true origin.
"Current assessments indicated that President Trump's statement is consistent with what some analysts believe is the epicenter of where the virus began. I would note, that Intelligence statement you're referring to really made two points: this virus originated in China, that it began through contact with infected animals, or was the result of an accident at a laboratory in Wuhan. So, I consider that consistent with what the president said, that he's seen intelligence suggesting it could be in the Wuhan laboratory." – Kayleigh McEnany, White House Press Secretary
She also noted the administration is on the fast track to provide a coronavirus vaccine. She quoted Dr. Anthony Fauci, who has said clinical trials have never gone this fast before.
LIVE: @PressSec Holds a Briefing https://t.co/jkJSwQcAn8

— The White House (@WhiteHouse) May 1, 2020
The secretary went on to say the White House will be conducting more press briefings moving forward.
RELATED: Kellyanne Conway Speaks Out On Biden Interview Regarding Reade Allegations