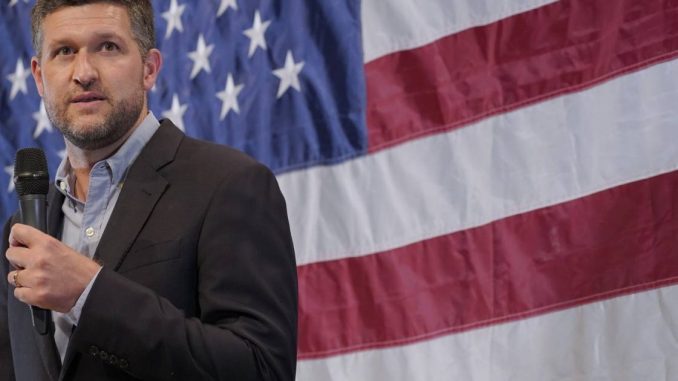 Daniel Baldwin, OAN White House Correspondent
UPDATED 1:24 PM PT – Thursday, August 25, 2022
Democrat Pat Ryan claimed victory in a special election in a bellwether district in New York's Hudson Valley Tuesday evening. While many election pundits are citing this win as a signal of a dying red wave, Richard Baris, the director of Big Data Poll, says there is no other way to spin it.
"I think it's significant that the Democrats won that seat," Baris said. Pat Ryan beat Mullinaro. There's no way to spin that otherwise." 
Baris did note turnout in this special election was down by about 200,000 votes from the historical norm. Baris says New York's 19th Congressional District usually draws about 350,000 votes. For example, in the 2020 general election, this same district drew a total of 352,771 votes. But Tuesday evening, only 128,991 people turned in their ballot to vote. Baris says this is a sign the GOP is struggling to move the needle without former President Donald Trump on the ballot. 
"What this tells me in New York 19 is that without Donald Trump involved in some of these fights," Baris explained. "Whether he is trying to beat a more establishment candidate in a nomination, or his candidate is just favored and he's, he's there driving excitement up, Republicans are having a hard time on their own getting people excited."
President Joe Biden carried New York 19 by less than 2 percentage points in 2020. Ryan claimed 51.1% (65,943) of the vote with Molinaro only securing 48.8% (62,952). Ryan is an Ulster County executive and will only serve four months in the current district. Baris says Molinaro should have won this seat.
"[He] did about as well in Dutchess County, which is his own backyard, Biden won that area," Baris explained. "He did about as well as any Republican could have. We have to remember that the district still did swing about 11 points in favor of Republicans. And the fact is Democrats can't afford that in many of these districts across the country."
Baris says the big takeaway from the race is that the GOP is struggling to turn out the vote without the 45th president.
"The big picture for me is that without Donald Trump on that ballot, they have a hard time bringing out lower propensity working class people who are not sold on the Republican party," said Baris. "This idea of moving on from Donald Trump, [the voters] not ready to do that yet. It's clear."