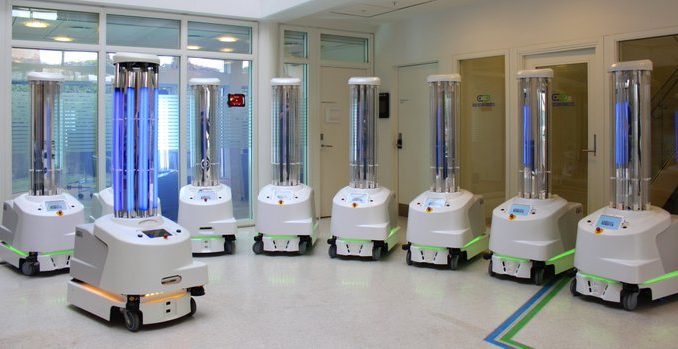 OAN Newsroom
UPDATED 2:28 PM PT — Friday, May 1, 2020
A company from Argentina is using robots in the fight against the coronavirus. UVD Robotics has been testing a new product that can sanitize both spaces and objects with ultraviolet light.
On Friday, developers tested the robot on a bus, where it was able to clean seats, walls and floor using just UV light.
Coronaviruses are a group of related viruses, which include MERS-CoV and SARS-CoV. How effective could UVD Robots be against #covid_19? Take a look at the following video… pic.twitter.com/uBihqkeyPz

— UVD Robots (@UVDRobots) April 30, 2020
According to the World Health Organization, cleaning products with chemicals such as bleach or hydrogen peroxide traditionally are only 60 percent effective against germs. UV light reportedly eliminates bacteria 99 percent of the time.
"Ultraviolet light is a light that the sun emits naturally," explained CEO Martin Gonzalez. "In this case, we use type 'C,' which is very high energy and works by destroying the DNA of bacteria, the RNA in the case of viruses, thus avoiding propagation or spread."
He added the robot can also be used to protect health care workers, who are being exposed to bacteria in hospital rooms.
Ever wondered what an office disinfection looks like from the UVD Robots perspective?
Well courtesy of our Austrian partners CRS-CleanRoom Solutions, we have a front seat view!#infectioncontrol #infectionprevention #pathogenenemyno1 #disinfection pic.twitter.com/PV2stBK83L

— UVD Robots (@UVDRobots) April 7, 2020
Currently, Argentina has reported over 4,000 confirmed cases of the virus.
MORE NEWS: Calif. Company Says Their Machines Using UV Light Can Be Used As Disinfectant For Airline Industry