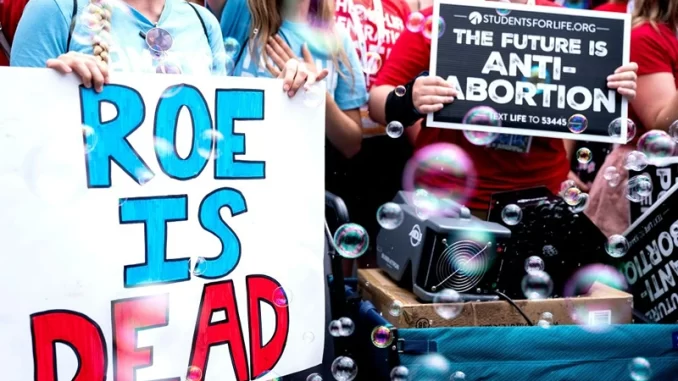 OAN Roy Francis
2:02 PM PT – Friday, February 17, 2023
Kentucky Supreme Court has ruled that the abortion bans in the state are to remain in place until the lawsuit over the matter is settled in court.
The mentioned abortion ban includes the six-week ban and the trigger law which were implemented in August of 2022 following the overturning of Roe v. Wade. The decision to implement the ban has been scrutinized recently after the issue of abortion was fought over in the midterm elections. Ultimately the ban remained in place within the state.
The Midwest regional director of the Susan B. Anthony List, an anti-abortion-rights group, Sue Liebel commented on the state Supreme Court's decision to maintain the ban.
"Lives will be saved while these laws remain in effect," she said. "And we hope and pray the lower courts will respect Kentuckians' will and base their decisions in this case on the Constitution and rule of law."
Meanwhile, protestors of the decision have voiced their opinions as well. National Abortion Rights Action League (NARAL) President Mini Timmaraju said that the decision is "unconscionable."
"This unconscionable decision is a slap in the face to Kentucky voters," she said. "Who only three months ago rejected a constitutional amendment that would have allowed a permanent ban on abortion in their state."
The two clinics in the state, Planned Parenthood and EMW Women's Surgical Center, were forced to stop providing procedures in 2022 after the bans went into effect. The American Civil Liberties Union challenged both bans in court which ultimately led to the Kentucky Supreme Court.
Arguments were presented in November before the court. Attorney General Daniel Cameron (R-Ky.) defended the ban during the opening arguments. He stated that the sate legislature and not the courts are the ones that are able to regulate abortion.
While the case moves forward, the state's Supreme Court currently has a new Chief Justice and two other new members which has added uncertainty around the case and the direction that the court might go.
In total, around a dozen states have banned almost all abortions, with several others being argued over in state courts.