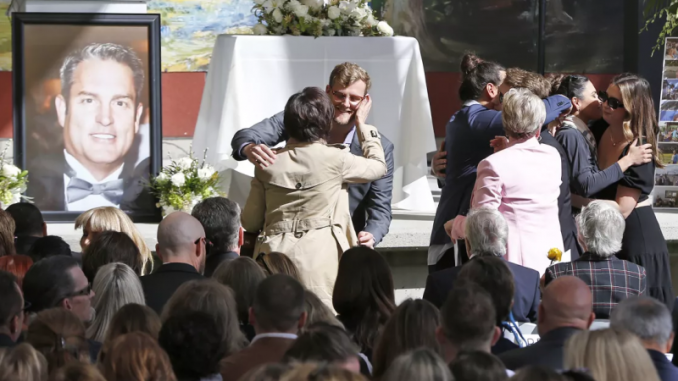 OAN Deven Berryhill
UPDATED 4:40 PM PT – Thursday, February 17, 2023
Emergency Room Dr. Michael John Mammone was memorialized on Thursday by admirers on the grounds of the Laguna Beach Festival of The Arts. Dr. Mammone died after being ran over and stabbed while riding his bicycle in Dana Point, California on February 1st.
According to sources, hundreds attended the doctors memorial service to pay their respects. Dr. Bill Dodge, who worked with Dr. Mammone at Providence Mission Hospital Laguna Beach's emergency room said from the podium that "many people went home with their lives because of Dr. Mammone."  Other colleges followed by saying, "he's who you'd want taking care of you if you were suffering."  Members of the Laguna Beach Fire Department who attended were said to have lined one side of the Festival entry, standing in parade rest.
The Stu News Laguna reported that "Anyone who attended would have had to come away with one thought…that they could only wish that when their life draws to an end that they, too, could be honored and remembered by so many with such admiration and love."

Many in Orange County were devastated by the brutality of this unprovoked attack. In a statement by the Orange County Sheriff's Department, Dr. Mammone was said to be riding his bike on the corner of Pacific Coast Highway and Crown Valley Parkway in Dana Point when he was hit by a white Lexus driven by Vanroy Smith.  

Witnesses at the scene told police that Vanroy Smith of Long Beach got out of his car and assaulted the doctor with a knife, seriously wounding him.  Mammone was rushed to the hospital where he later died. 

It has been reported by investigators that there was no direct connection between the doctor and his assailant. 

Smith has been charged with murder by Orange County District Attorney Todd Spitzer.  Sources have said that Smith's criminal proceeding will be temporarily suspended until his mental competency has been determined.

Dr. Mommones' website obituary stated, "Michael was a loving husband and father who absolutely adored his wife and family. At home he was known for his infectious joyful energy and his silly jokes. He would often bring the family together to enjoy his homemade pizzas, perfected guacamole recipes, and signature cocktails,"
At the close of the memorial, Julie Mammone shared about the amazing life of her beloved husband. Her profound strength and grief was felt by all.