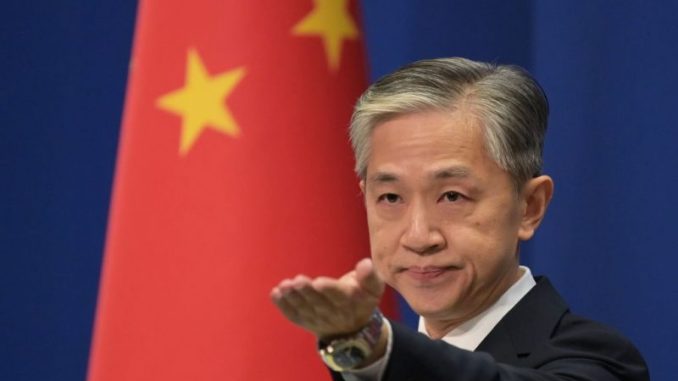 OAN Deven Berryhill
UPDATED 4:15 PM PT – Wednesday, February 15, 2023
China has warned that unspecific "countermeasures" would be taken against relevant United States entities for downing the "spy balloons."  The Biden administration called China's Spy Balloons "a brazen violation of United States sovereignty."
Chinese Foreign Ministry Spokesman, Wang Wembin told the press on Wednesday "[that] China is firmly opposed to this and will take countermeasures against relevant U.S. entities that have undermined China's sovereignty and security in accordance with the law."
Wembin claimed that the balloons were for meteorological purposes and called for the U.S. to return the downed remnants.  He has also said that the U.S. had flown 10 spy balloons over its Xinjiang and Tibet regions since May 2022. This is a claim that has been denied by the U.S. government.  
The spokesman asserted that the Chinese government would "resolutely safeguard national sovereignty and its legitimate rights and interests."  
Chinese officials have called these incidents "unacceptable" and a "clear overreaction."  
Secretary Of State Antony Blinken postponed his planned visit to China after the first spy ballloon was detected on February 3rd.  Reuters has reported that Secretary Blinken may try and meet with Chinese diplomat Wang Yi to discuss the situation at this week's security conference in Munich.
In response to the balloon deployments, the Biden administration sanctioned six Chinese tech and aviation companies known in connection to their global surveillance program. The U.S. House Of Representatives responded in kind by passing a resolution condemning the Chinese government.