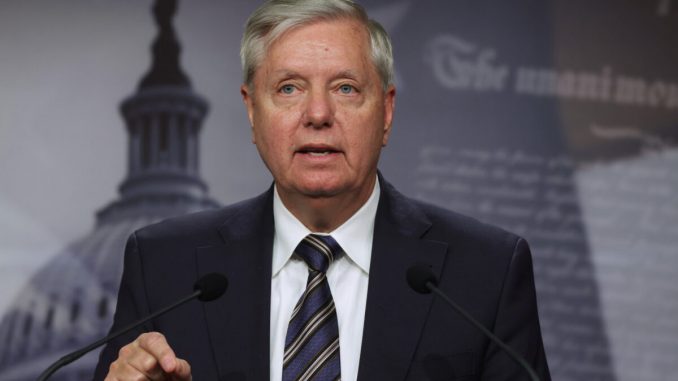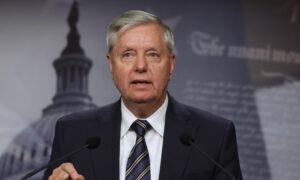 Sen. Lindsey Graham (R-S.C.) on Thursday suggested that GOP is still the party of former President Donald Trump.
It comes as House Republicans are moving to remove No. 3 Republican Rep. Liz Cheney (R-Wyo.) after her critical comments about the former president.
"I would just say to my Republican colleagues, can we move forward without President Trump? The answer is no," Graham told Fox News. "I've always liked Liz Cheney, but she's made a determination that the Republican Party can't grow with President Trump. I've determined we can't grow without him."
In an opinion article for the Washington Post on Wednesday, Cheney again criticized Trump and said the Republican Party needs to move on from the "the Trump cult of personality" and claimed he is attempting to "unravel critical elements of our constitutional structure that make democracy work." In February, Cheney was 1 of 10 Republicans in the House who voted to impeach the former president.
Graham noted that Trump's "economic populism" and "America First" agenda are popular. Cheney drew the ire from Republicans after she called a proposal from Rep. Jim Banks (R-Ind.) about how Republicans can retain working-class voters "neo-Marxist."
"If you don't get that, you're making the biggest mistake in the history of the Republican Party," Graham said.
Cheney survived a vote among House Republicans earlier this year, but several top Republicans have expressed dismay with her leadership in recent days. Cheney's likely successor as head of the House Republican Conference, Rep. Elise Stefanik (R-N.Y.), is considered a staunch Trump supporter.
"House Republicans need to be solely focused on taking back the House in 2022 and fighting against Speaker [Nancy] Pelosi and President [Joe] Biden's radical socialist agenda, and Elise Stefanik is strongly committed to doing that, which is why Whip Scalise has pledged to support her for Conference Chair," Lauren Fine, a spokesperson for House Republican Whip Steve Scalise (R-La.), told The Epoch Times in an email on Wednesday.
And Trump, in a statement this week, said he is endorsing Stefanik.
"We want leaders who believe in the Make America Great Again movement, and prioritize the values of America First. Elise Stefanik is a far superior choice, and she has my COMPLETE and TOTAL endorsement for GOP Conference Chair. Elise is a tough and smart communicator," Trump wrote in a post.
It's not clear when a vote could be held on Cheney's position, although some Republicans have speculated that could be by the end of May.