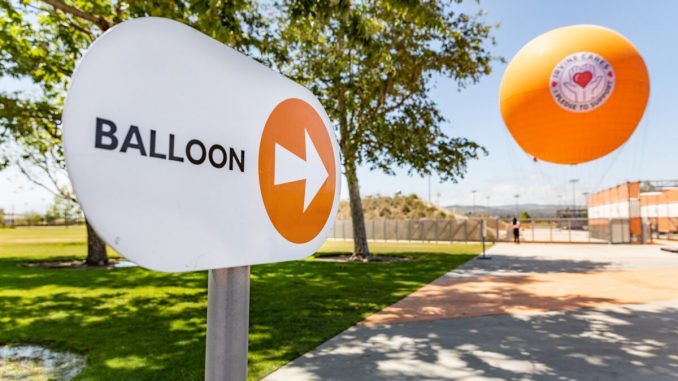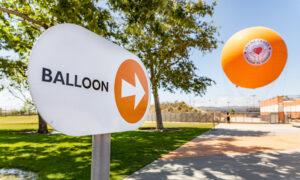 Two iconic Orange County entertainment sites welcomed back guest May 6 after being closed more than a year.
In Irvine, Calif., the Orange County Great Park's hot air balloon took flight for the first time in about 14 months.
"We're very excited to be able to resume a flight on the balloon," city spokesperson Kristina Perrigoue told The Epoch Times.
Residents eagerly waited on shady park benches to ride the balloon until it was their turn, including a family of four that was celebrating a 40th birthday.
First-time riders came off the hot air balloon shouting in thrill of their experience 400 feet above the City of Irvine.
"It's unbelievable," William Adam told The Epoch Times.
Added rider Cory Kaylor: "I got a bit of butterflies in my stomach but other than that it was gorgeous. I've never been on anything like that."
The attraction is available to ride for free on a first-come, first-serve basis. The hot air balloon affords a panoramic view of Orange County while taking flight. Spectators can expect to see the words "Irvine Cares. I Pledge to Support" printed on the face of the orange balloon.
On clear days, riders can expect to see as far out as Catalina Island and downtown Los Angeles, community service representative Alana Kaleikini told The Epoch Times.
"It's really good, it's good to bring people back to have some fun," Kaleikini said.
Knotts Berry Farm  
Knotts Berry Farm opened its gates for season passholders May 6 for the first time in 13 months.
"We had a couple of eager passholders lining up earlier in the day," Knotts spokesperson Diana Bahena told The Epoch Times. "We've been gearing up for this for a couple of months now [and] it was nice to have made sure that they were prepared for our 100th anniversary."
Guests ran to secure their spots on popular attractions at the park, such as Knott's Bear-y Tales: Return to the Fair ride, Bahena said.
The amusement park will be open to the general public beginning May 21, just in time for the theme park's 100th anniversary summer celebration.
"We have so much in store for them that we can't wait to share with them," Bahena said.
Visitors can expect to see new characters, taste new food, and take advantage of more photo opportunities, she said.
Reservations for the park are required; COVID-19 safety protocols will be enforced.