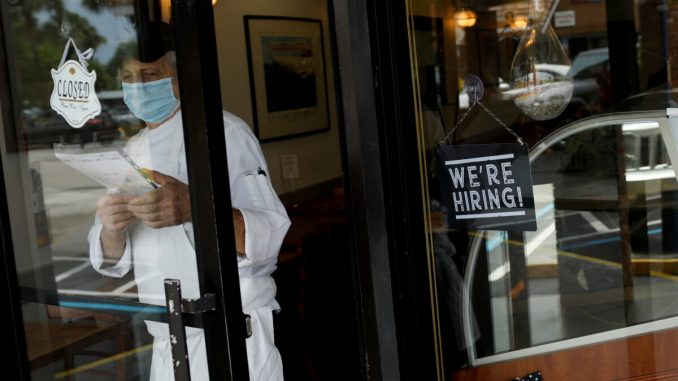 America's private employers in April added a paltry 266,000 jobs—a proxy for new hires—despite job openings at near record-high levels, suggesting businesses are struggling to find workers and reinforcing the view that some of the Biden administration's fiscal relief measures are disincentivizing people from seeking work.
The government's jobs report, released Friday, shows that nonfarm payroll employment rose by 266,000 in April, sharply lower than in March and a sign that some businesses are struggling to find enough workers. In the report, the Labor Department also sharply lowered its estimate of March's job gain to 770,000 from its earlier estimate of 916,000.
Meanwhile, the most recent job openings report, released on April 6, showed that there were 7,367,000 nonfarm job openings in February, only slightly lower than the record high of 7,574,000 in November 2018.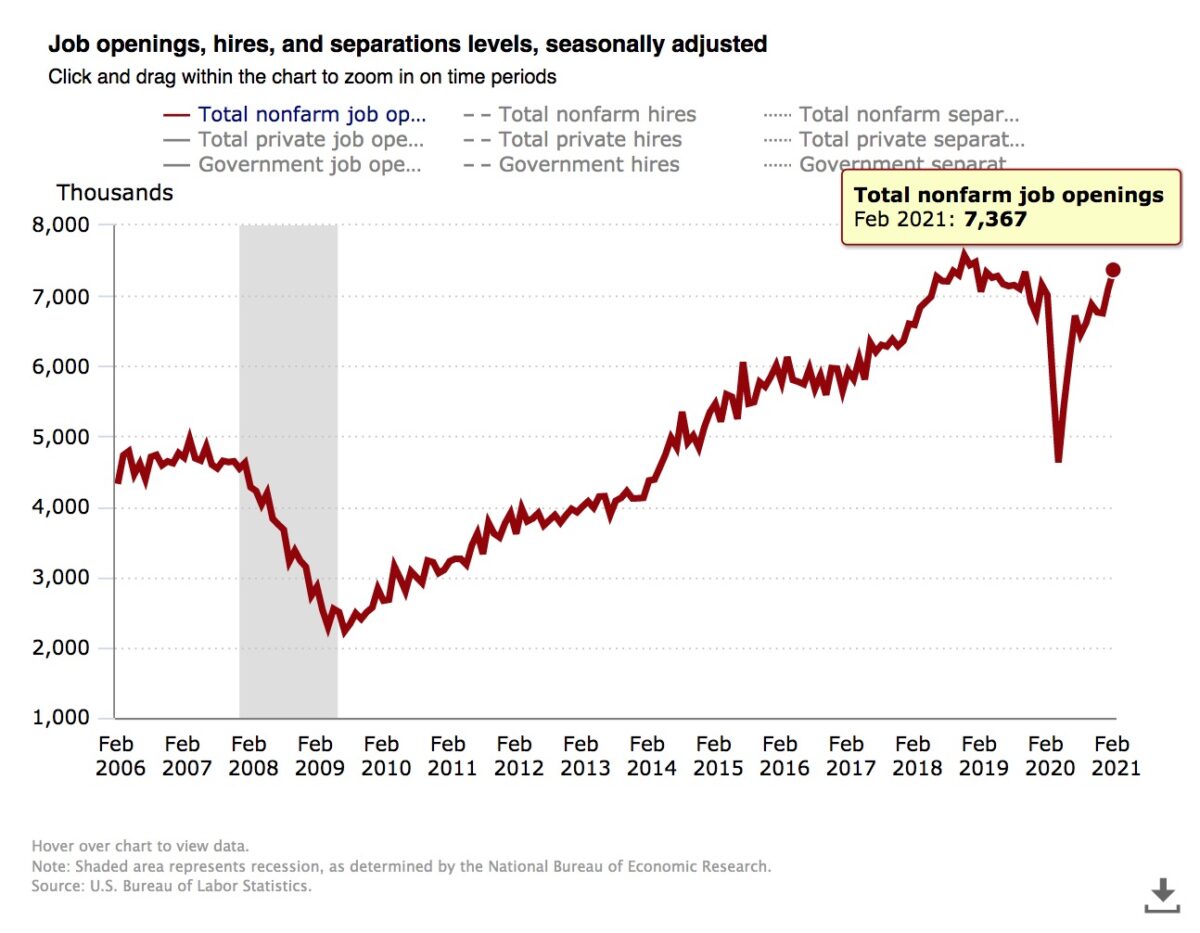 Along with a decline in cases of the CCP (Chinese Communist Party) virus and as states and localities ease restrictions, businesses have added jobs for four straight months, Friday's Labor Department figures show. April's job openings and labor turnover survey, meanwhile, shows the number of available jobs has been rising steadily since December 2020, when they stood at 6,752,000. Yet the unemployment rate ticked up to 6.1 percent from 6 percent in March, Friday's figures show, suggesting available jobs are simply not being filled.
Some experts have suggested that government unemployment benefits may be partly to blame for labor market slack, or unmet demand for paid labor.
"Ongoing fiscal relief in the form of unemployment benefits could, in some cases, delay returns to the labor force and therefore delay reduction in labor market slack," said Nick Reece, portfolio manager at Merk Investments LLC, in an emailed statement to The Epoch Times.
Nick Eberstadt, political economist at the American Enterprise Institute, a conservative think tank, told The Epoch Times that, while relief measures were justified at the height of the pandemic-induced recession, President Joe Biden's massive spending, both passed and proposed, could have a negative impact on parts of the economy.
"In the depths of the emergency last year, there was a very compelling argument for government action," he told The Epoch Times. But maintaining emergency measures "in non-emergency times may have unintended consequences," he added.
"Incentivizing training skills and getting back to work would be better for our country than incentivizing indefinite unemployment, joblessness," he said, while criticizing Biden's proposed expansion of welfare programs for having no work requirements.
Rep. David Kustoff (R-Tenn.) commented on the jobs report in an interview on Newsmax, saying that many small business owners have told him that "we cannot get people to come to work."
"The federal government has provided essentially a disincentive to want to find jobs, to want to work, and so that jobs report does not surprise me."
He said that the extended unemployment benefits under the American Rescue Plan run through September, adding, "I think we're going to see more of that, where people are going to say, 'Look, I can make almost the same money by staying at home rather than going to work, why do I need to go to work?'"
Meanwhile, restaurant owners and managers from New York, California, Washington, and Chicago told The Epoch Times that hiring woes have become a nightmare, in addition to a spate of other challenges like indoor occupancy rules. They said in interviews that the federal unemployment bonuses handed out during the pandemic incentivized people to stay home instead of working.
Mark Fox, a Dublin native who lives in New York City, owns four restaurants in the Big Apple. While business is now finally starting to pick up, hiring troubles have slowed down the momentum.
"We have difficulty hiring hourly workers, bartenders, servers, bar-backs, busboys, runners, overnight cleaning staff," Fox told The Epoch Times inside his flagship restaurant, The Ragtrader & Bo Peep Cocktail and Highball Store.
"We are probably 60 employees short," he said. "I have one restaurant in Greenwich Village that I haven't reopened yet because they don't have the manpower."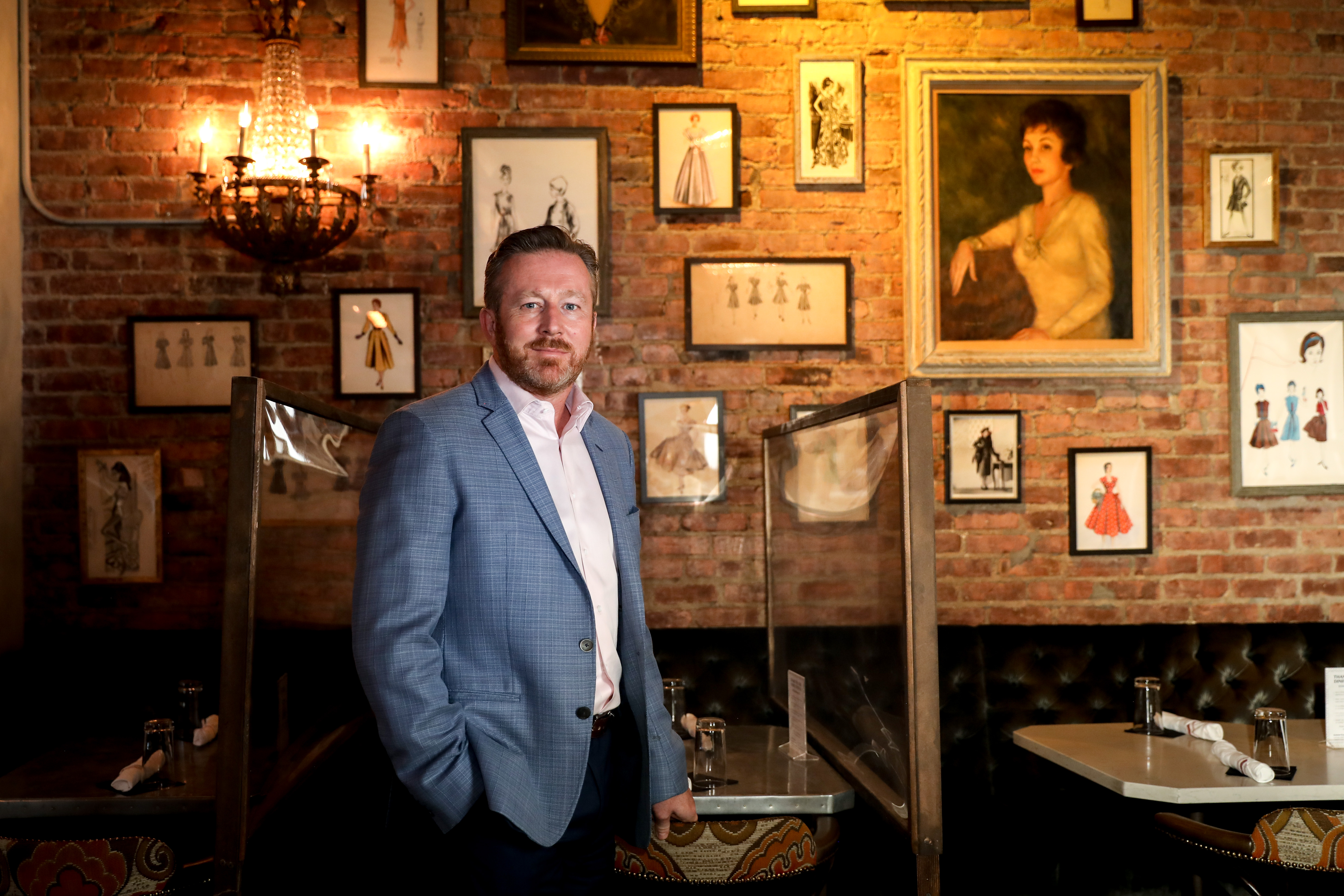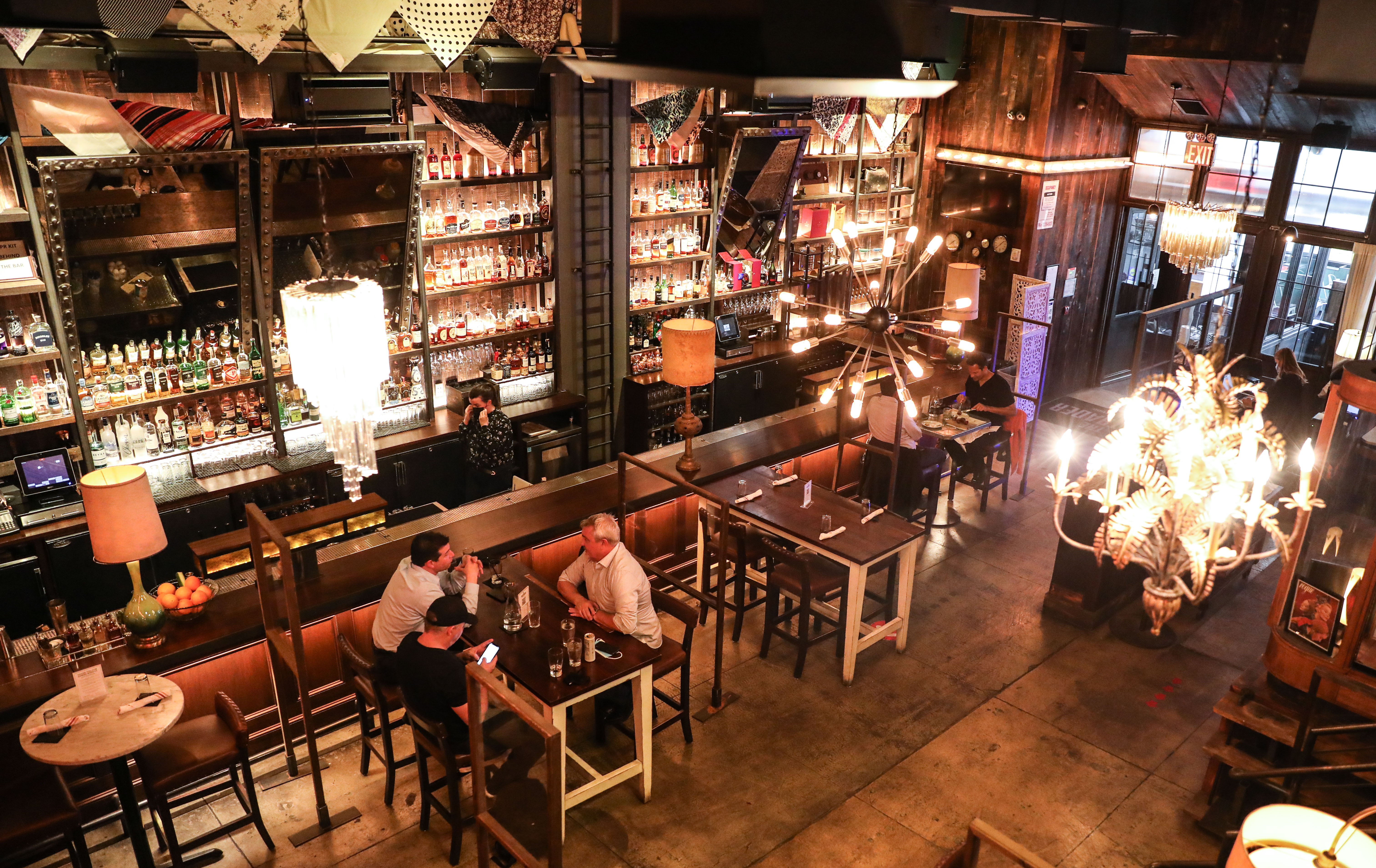 The Ragtrader, a 300-seat restaurant in its fourth week of reopening, was hit hard last year. Fox said he lost a "devastating" amount of money. He said revenue levels currently are half of what he made in 2019 but that the needle is "moving in the right direction."
Hudson Riehle, the senior vice president for research at the National Restaurant Association said hiring difficulties in the sector are surging.
"When it comes to recruiting workforce, in January, 7 percent of restaurant operators rated recruitment and retention of workforce as their top challenge; by April that number had risen to 57 percent," Riehle told The Epoch Times.
The labor squeeze has become so dire in the restaurant industry that one McDonald's location in Florida started paying $50 to anyone who would show up for a job interview. Other franchises like Taco Bell, which needs at least 5,000 new employees, are holding hiring events in parking lots.
"With fewer people in the workforce, the stimulus supports still in place, worker safety concerns, the need for caregivers to remain at home, and much greater competition with other industries for workers, operators are returning to pre-pandemic recruitment techniques for hiring," Riehle said.
Some economists say employers will have to offer higher pay to draw more people back into the job market.
The U.S. economy remains more than 8 million jobs short of its pre-pandemic level.
Bowen Xiao and Emel Akan contributed to this report.