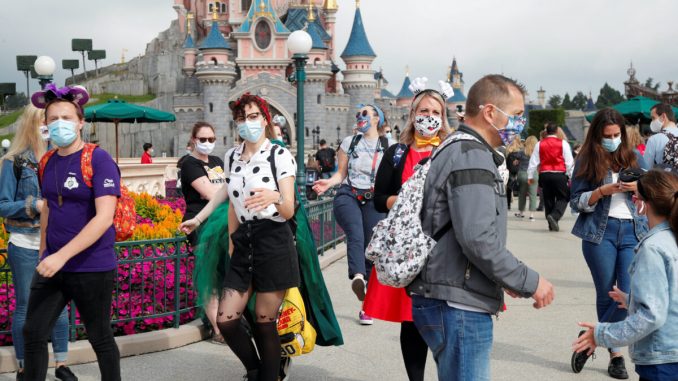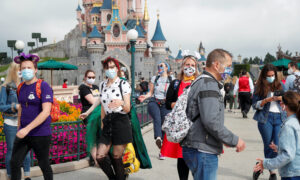 The state is now allowing out-of-state visitors to attend California's theme parks—but only if they're fully inoculated.
California's Blueprint for a Safer Economy guidelines were updated April 19 with an addendum that reads: "Fully-vaccinated persons from out-of-state may visit or attend activities or events that are restricted to in-state visitors."
The California Department of Public Health did not respond to The Epoch Times' request for comments by press time.
The state is also allowing entertainment venues, such as concert halls, to increase capacity on the condition that attendees provide proof of vaccination or negative COVID-19 test results.
Venues operating under such guidelines will receive a "capacity bonus," the state said. Indoor venues would be allowed to increase capacity by an extra 50 percent, up to a maximum of 50 percent total venue capacity.
To utilize the capacity bonus, venues must also separate attendees by vaccination status. The fully-vaccinated will be placed in a section where physical distancing is not required. Attendees who tested negative will be required to sit together in another section, according to the guidelines.
Vaccine cards—including the name of the person vaccinated, type of vaccine provided and last date of administration—or a photo of the vaccination cards are accepted as proof of inoculation, as are vaccination documents from healthcare providers, California's blueprint said. Attendees are considered fully inoculated two weeks after their second dose.
Theme Parks
Right now, Orange County is in the moderate tier, allowing theme parks such as Disneyland to open at 25 percent capacity. Until California's reopening blueprint was amended, theme parks were reserved for in-state residents.
While currently closed, Disneyland has announced plans to reopen April 30 for the first time in more than a year.
The California Attractions and Parks Association, a statewide association that represents the permanent amusement park industry, said that the addendum will allow theme parks the option to allow out-of-state guests.
"Amusement parks' responsible reopening plans are guided by the state's Blueprint for a Safer Economy which was recently updated with an Addendum to Blueprint Activity & Business Tiers Chart," a spokesperson for CAPA said in a statement sent to The Epoch Times. "This addendum now allows fully vaccinated persons from out of state to visit or attend activities or events that were previously restricted to in-state visitors. As vaccinations become more widespread and state guidance evolves, individual parks may update their own responsible reopening plans in accordance with state and local public health regulations."
Though Disneyland has yet to say whether it will be accepting out-of-state guests under the new rules, the idea didn't sit well with some park goers.
Melissa Fail, a Disneyland fan from Martinez, California, said requiring a vaccine for theme park attendance is overreach by the government.
"I feel that the government should not be interfering in health codes as far as a vaccine goes," Fail told The Epoch Times. "I am all for vaccines when they have been approved by the FDA and have stood the test of long-term trials. I personally am not getting the vaccine [for many reasons] and I don't appreciate any business [through government mandate] telling me that I can't visit if I am not vaccinated. I wear a mask, I social distance and follow all protocols. But putting a vaccine into my body…crosses the line for me."
She continued, "I feel that out-of-state [residents] should be able to start coming back to Disneyland once the state opens up to 50 percent capacity. Until then, I believe that it should only be open to California residents. And a vaccine card shouldn't be a factor for any of it."
The announcement by the state came soon after 215 public commenters spoke at an Orange County Board of Supervisors meeting April 13 to protest the government creating "vaccine passports."
The board, as well as Orange County Health Care Agency director Clayton Chau, repeatedly assured the public that while a digital way to verify vaccination will be created, it will be entirely voluntary for businesses to use, and the county government would not mandate it in any form.
While Disneyland has yet to announce specific plans, SeaWorld of San Diego has said it will allow fully vaccinated out-of-state visitors into their park, noting that fully vaccinated entails waiting two weeks after the last shot. It reopened April 12.
Disneyland did not respond to The Epoch Times' requests for comment. Knott's Berry Farm in Buena Park said it was still reviewing the guidance and not yet in a position to comment.