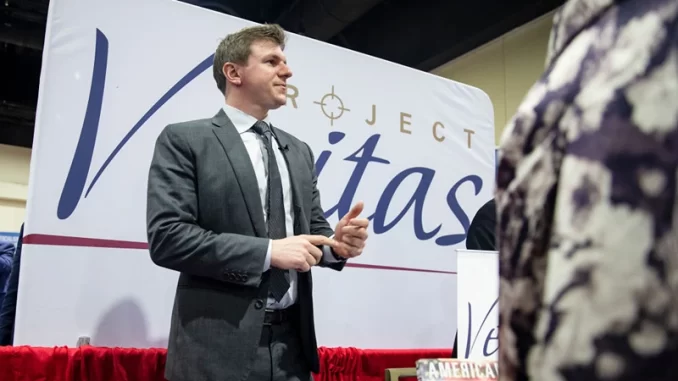 OAN Roy Francis
12:30 PM PT – Thursday, February 9, 2023
James O'Keefe is taking a "few weeks of well-deserved" paid time off, according to an internal message sent to Project Veritas employees by the organization's executive director, Daniel Strack.
While away from the company, his leadership role is set to undergo a review from the board on Friday, placing his future with the organization in doubt.
"Like all newsrooms at this stage, the Project Veritas Board of Directors and Management are constantly evaluating what the best path forward is for the organization," Strack said in a statement. "There are 65+ employees at Project Veritas dedicated to continuing the mission to expose corruption, dishonesty, waste, fraud, and other misconduct in both public and private institutions. To our supporters: We hear you, we care about you, and we will never give up."
O'Keefe was placed on leave as a memo had leaked that employees were complaining and raising concerns about his behavior.
The memo claimed that his staff were "troubled and frustrated" by his management style, and that he would be "outright cruel" to his employees.
They went on to claim that O'Keefe engages in berating behavior and "public crucifixions" of staff members.
Under O'Keefe's leadership, Project Veritas has investigated and unearthed very controversial topics. Most recently, they uncovered Pfizer's unethical practices in regards with the COVID vaccine, along with the experiments that they are performing to evolve the virus for future profits.
The Pfizer executive that was investigated had tried to defend himself by claiming that the experiments were not gain of function research, but instead that they were directed evolution.
The Pfizer employee also went on to admit that the company knew that the vaccine negatively affected women's reproductive health, and that the company had known about it all along.
The news of the Project Veritas' actions have been met with severe backlash as journalists and supporters of O'Keefe are calling out the company for an attempted "hostile takeover."
Supporters are saying that "there is no Project Veritas without James O'Keefe." And if the company was to part ways with their founder, then support for the organization would be halted.
O'Keefe had built the nonprofit organization in a carriage house behind his parents' house in Westwood, New Jersey. The group had grown tremendously and recorded more than $20 million in an annual operating budget, but now it seems that O'Keefe's future with the company is looking bleak.