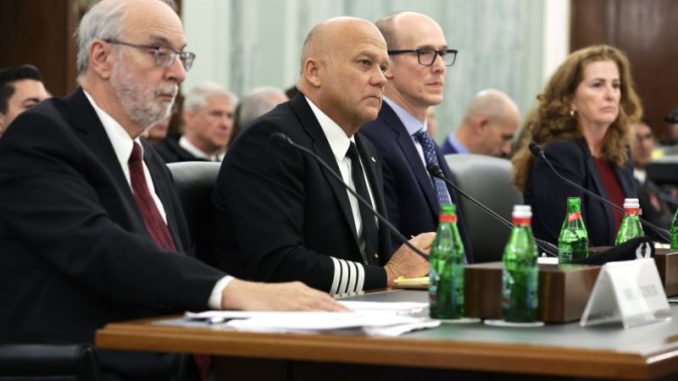 OAN Geraldyn Berry
1:17 PM PT – Thursday, February 9, 2023
Southwest's Chief Operating Officer Andrew Watterson and other executives appeared before the Senate Commerce Committee in regards to Southwest's operations and recent service meltdown amid severe weather events.
Others who appeared to testify were President of Southwest Airlines Pilots Association Captain Casey A. Murray, President of Flyers' Rights Paul Hudson, Senior Vice President and Legislative and Regulatory Policy for Airlines for America Sharon Pinkerton, and Brookings Institution Senior Fellow
Dr. Clifford Winston.
This comes as Southwest's recent round of cancellations and customer service delays are being looked into, according to the Department of Transportation. President Joe Biden had said that his administration "is striving to ensure airlines are held accountable."
After the Christmas weekend blizzard that left much of the country under snow, Southwest Airlines experienced a service meltdown for days, long after its competitors had resumed regular service. Between December 21th and December 29th, the airline had to cancel more than 16,700 flights, or about half of its planned itinerary. The disruption also resulted in millions of passengers without their bags. In many cases, it had taken days, or weeks for the bags to be returned to their owner. It is reported that over 200 bags are still unclaimed.
 "We will continue to hold those until we can find someone who owns it," Watterson said.
Southwest's outdated crew scheduling system was one of the main issues during the service meltdown. It left questions about who was available to fly on upcoming flights, and where its crew members were.
As a result, even though the crew members were at least theoretically available, it was forced to cancel thousands of flights due to a personnel shortage.
The President of Southwest Airlines Pilots Association testified that it had been a long-standing problem.
"I want to sincerely and humbly apologize to those impacted by the disruption," Watterson said. "It caused a tremendous amount of anguish, inconvenience, and missed opportunities for our customers and employees during a time of year when people want to gather with their families and avoid stressful situations. We understand that for many, this is perhaps the most important trip they take all year. Again, on behalf of Southwest Airlines, I am deeply sorry."

"Let me be clear. We messed up," Watterson added. "In hindsight, we did not have enough winter operations resiliency."
Committee Chairwoman, Senator Maria Cantwell (D-Wa.) had said that all lawmakers present wanted to" talk about the alternatives" because there is always going be these "weather events."  She pointed out that there is a need for the Department of Transportation to take tougher steps against airlines who cause problems for passengers.
Top ranking-Republican Ted Cruz (R-Texas) disagreed and said that it would do more harm than good.
"Regulatory overreach that egregious would undermine decades of progress in air travel," he said. "Harming the various consumers that the DOT claims it is trying to protect."
Southwest had compensated impacted passengers with 25,000 extra points in frequent flyer accounts as well as travel vouchers to mend fences with them. Additionally, it is compensating passengers who purchased tickets on other airlines or incurred additional unanticipated travel expenses in addition to refunding prices for canceled flights. Along with paying for travel on other carriers, this refund also includes reimbursement for meals, lodging, and car rentals.
Senator Ed Markey (D-Mass.) called on the company to provide a "cash hardship payment" to affected customers as the "frequent flyer points" were "little consolation."
In response, Watterson said that the company will refrain from making payments to flyers "unless it's reimbursement of a flight they took in the disruption."
284,188 eligible cases had been submitted to Southwest for payment. 10,782 of the claims remain after 273,406 were paid, according to Watterson.
"Those were the ones submitted most recently, and we processed them all inside the DOT's (Department of Transportation) 30-day deadline," Watterson said.
A solution that the COO suggested was strengthening the early indicators dashboard to highlight operational issues earlier, establishing supplemental operational staffing that can quickly mobilize crew recovery efforts, and improving coordination among key divisions in order to enhance the operations of the airline company.
"Our contracts with our crews right now require telephone calls in these situations," Watterson said. "The airline is in the process of negotiating new contracts with most of its employees, including the pilots and flight attendants. But those negotiations will have to reach an agreement on a wide range of issues, including contentious issues on wages and benefits, so reaching new deals are not likely to be complete in the near term."
"Tomorrow, the fix will go in, it will be live on our production system," he added. "It has already had two rounds in our test system."
The airline had lost approximately $800 million as a result of the crash.
Southwest had lower revenue, which translated into lower tax payments. Therefore, U.S. taxpayers lost up to $180 million in tax revenue.