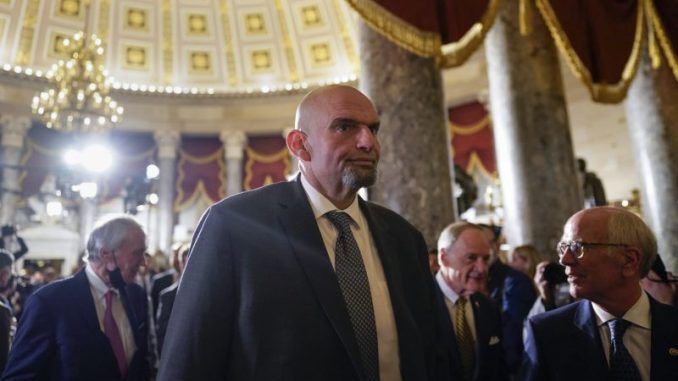 OAN Deven Berryhill
UPDATED 12:43 PM PT – Thursday, February 9, 2023
Pennsylvania Senator John Fetterman was kept overnight in the hospital for what was described as lightheadness. His office said the senator was concluding a Democratic retreat when he asked his staff to take him to George Washington University.
On Wednesday, Fetterman (D-Pa.) was kept in the hospital overnight for observation.
"Initial tests did not show evidence of a new stroke, but doctors are running more tests and John is remaining overnight for observation," Fetterman's communications director, Joe Calvello, said in the statement. 
The senator had suffered from a stroke last May just before winning his Pennsylvania primary race. Fetterman had previously been diagnosed with atrial fibrillation, an irregular and often very rapid heart rhythm (arrhythmia). His procedure in May included an implant of a pacemaker and a defibrillator. 
Fetterman was in surgery the same day he won the nomination. Following Fetterman's recent hospital stay, his cardiologist Dr. Ramesh R. Chandra issued a statement on the cause of the initial stroke.
"He is in good spirits and talking with his staff and family," said Calvello. " We will provide more information when we have it."