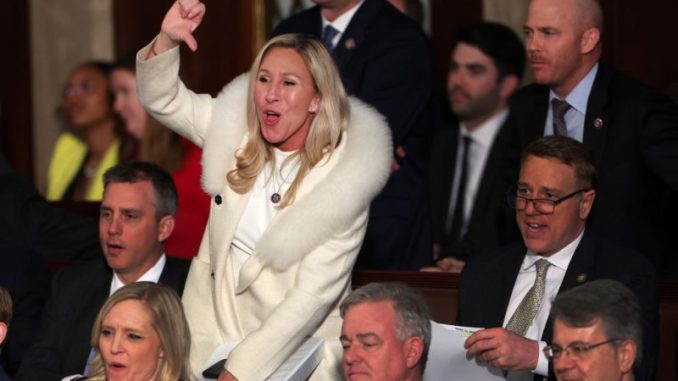 OAN Sophia Flores
8:53 PM PT – Tuesday, February 7, 2023
President Joe Biden delivered his second State of The Union address on Tuesday. He was booed by many Republicans after he accused them of wanting to cut Social Security and Medicare.
During his criticizing remarks, Biden specifically referenced plans floated by Senator Rick Scott (R-Fla.). Conservative lawmakers were not afraid to speak up and call him out on his allegations.  
Following his remark, the GOP side of the chamber began booing, with House Speaker Kevin McCarthy (R-Calif.) shaking his head.
Marjorie Taylor Greene (R-Ga.) screamed "liar."
Biden said that the idea came from a majority of members in the GOP and that they could "contact his office" for proof.
The Georgia Republican released a video sharing her thoughts on Biden's speech.
Prior to the State of the Union Address, Greene posted a video on her Twitter carrying an "innocent balloon." The white balloon depicted one similar to the Chinese surveillance balloon which was shot down by the Pentagon last week. Initially, the Biden administration refused to shoot down the balloon due to fear for civilians below. However, after increased pressure from government officials and the American people, action was taken.