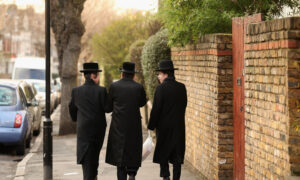 Two men have been charged in connection with an assault on a rabbi near his synagogue in north London, UK police said on Wednesday.
Abderrahman Brahimi, 25, and Souraka Djabouri, 18, both of Tudor Crescent, Ilford, are due to appear at Colchester Magistrates' Court on Wednesday, Essex Police said in a statement.
They are each charged with wounding with intent to cause grievous bodily harm, robbery, and religiously aggravated criminal damage.
Rabbi Rafi Goodwin received hospital treatment for head injuries on May 16, following an assault in Limes Avenue, north London, just after 12:15 p.m.
According to an earlier police statement, it was believed that the two attackers stepped out in front of the victim's vehicle whilst he was driving, shouted at him, and spoke in a derogatory way about his religion, before going on to damage his car.
When he got out of his car to confront them, he was attacked with an unknown object, and his phone was stolen. The attackers then left the scene on foot.
Police said officers were speaking to members of the local Jewish community who were celebrating the Shavuot holiday in Chigwell and Southend, Essex.
Essex Police said they did not believe the attack was linked to anti-Israel protests that took place over the weekend.
British ministers say there has been an increase of anti-Semitic abuse since the latest Middle East conflict flared up earlier this month.
Communities Secretary Robert Jenrick said on Monday he was "appalled" by "intimidatory, racist, and extremely serious crimes."
He told MPs that the Community Security Trust, a charity providing security and advice to Jewish people in the UK, had reported a 320 percent increase of anti-Semitic incidents in the last week—with the figure "likely to rise further" due to a delay in reporting.
A video posted on Twitter on Sunday showed cars moving on a street with Palestinian flags on them. Slogans such as "[expletive] the Jews, [expletive] their mothers, [expletive] their daughters" and "rape their daughters" were heard through a loudspeaker.
The Met traced one of the cars after receiving reports of the incident. A police helicopter was deployed and officers stopped the car and arrested the men on suspicion of racially aggravated public order offences.
The incident received cross-party criticism, with Prime Minister Boris Johnson condemning the acts as "shameful racism" that have "no place" in society.
The Met said on Tuesday that the men had been released on bail.
Lily Zhou and PA contributed to this report.