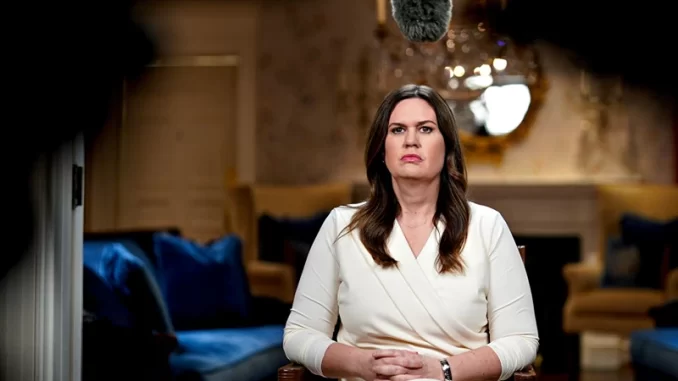 OAN Roy Francis
7:30 AM PT – Wednesday, February 8, 2023
Arkansas governor Sarah Huckabee Sanders issued a rebuttal to President Joe Biden's state of the union address.
Huckabee Sanders (R-Ark.) had a lot to say in response to Biden's speech on Tuesday, which largely hit on his campaign talking points, glossed over America's struggling economy and soaring inflation rates, blaming the issues on the pandemic.
This despite the Biden administration refusing to lift the COVID state of emergency until may. 
Huckabee Sanders ripped on woke America and the left's attack on America's founding principles. She called for a "new generation of Republican leadership" and said that the American people have a choice "between normal or crazy."
"Being a mom to three young children taught me not to believe every story I hear," Sanders started her speech. "So, forgive me for not believing much of anything I heard tonight from President Biden. From out-of-control inflation and violent crime to the dangerous border crisis and threat from China, Biden and the Democrats have failed you."
 The Arkansas Republican hit on the ways in which she and Biden are different.
"At 40, I'm the youngest governor in the country, and at 80, he's the oldest president in American history," she said. "I'm the first woman to lead my state, and he's the first man to surrender his presidency to a woke mob that can't even tell you what a woman is."
The Arkansas governor also highlighted the weight of America's downfall under Biden's stewardship.
"In the radical left's America, Washington taxes you and lights your hard-earned money on fire," she went on. "But you get crushed with high gas prices, empty grocery shelves, and our children are taught to hate one another on account of their race, not to love one another or our great country."
She went on to say that the Biden administration was "completely hijacked by the radical left" and that the "dividing line" is no longer between right and left.
"The choice is between normal or crazy," she explained. "It is time for a new generation of Republican leadership."
She also pointed out all the things that the Biden administration had inherited, and that the Democrats had "destroyed it all."
"President Biden inherited the fastest economic recovery on record. The most secure border in history," she listed. "Cheap abundant, home-grown energy. Fast-rising wages. A rebuilt military. And a world that was stable and at peace. But over the last two years, Democrats destroyed it all. Despite Democrats' trillions in reckless spending and mountains of debt, we now have the worst border crisis in American history."
Finally, she explained that America is a great country because it is a truly free country, but now that freedom is under attack and that Biden and the Democrats had failed the people.
"America is great because we are free. But today, our freedom is under attack, and the America we love is in danger. President Biden and the Democrats have failed you. It's time for a change. A New Generation of Republican leaders is stepping up, not to be caretakers of the status quo, but to be change makers for the American people," she said. "We know not what the future holds, but we know who holds the future in His hands. And with God as our witness, we will show the world that America is still the place where freedom reins and liberty will never die,"
Huckabee sanders is the daughter of former Republican Governor Mike Huckabee, and had served as White House press secretary under former President Donald Trump. She had also made history when she was inaugurated as the first female governor of Arkansas on January 10th