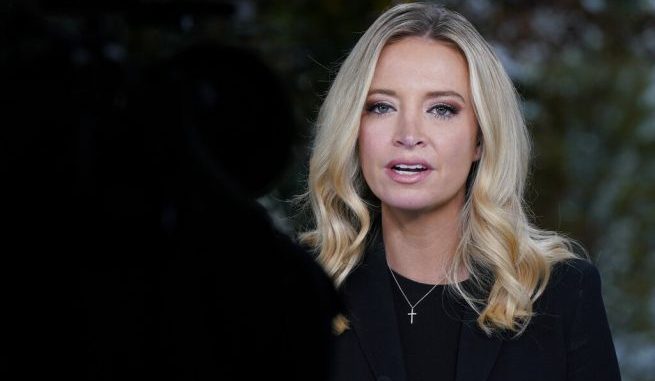 OAN Newsroom
UPDATED 7:07 AM PT – Monday, October 5, 2020
White House Press Secretary Kayleigh McEnany gave a brief statement on COVID-19 cases in President Trump's cabinet.
On Sunday, she said the White House will not be releasing the number of its employees who have coronavirus because of privacy concerns.
While speaking on the timeline of President Trump's diagnosis, McEnany said he first tested positive after taking part in a fundraiser in Bedminster, New Jersey last week.
"Yeah, I'm not gonna give you a detailed readout of the time stamps of every time the President's tested," she explained. "He's tested regularly and the first positive test he received was after his return from Bedminster."
The strength of the entire country is with President @realDonaldTrump and @FLOTUS.

America stands united.

Our country stands strong.

Your President will continue to put the People first!

— Kayleigh McEnany (@PressSec) October 2, 2020
Her remarks on the matter came after White House doctors expressed optimism the President could be released as early as Monday.