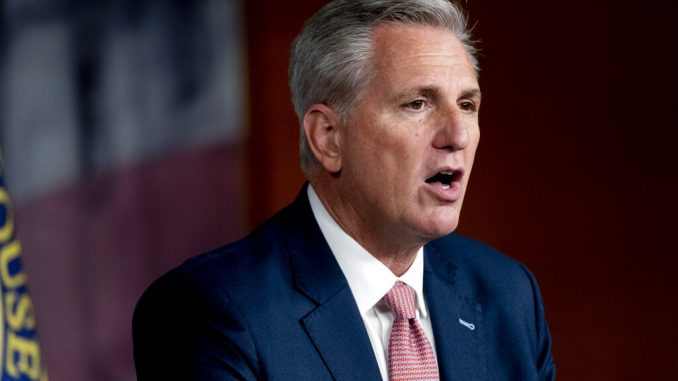 OAN Newsroom
UPDATED 9:25 AM PT – Wednesday, February 9, 2022
House Republicans are ramping up criticism of face mask mandates for schools that are supported by some Democrat officials. In a statement on Tuesday, House Minority Leader Kevin McCarthy (R-Calif.) said it's too late for Democrats to "trust the science" because their policies have been discredited as "unscientific."
"Stacy Abrams visited a classroom in Georgia without a mask while every child around her, as you could see, wore their mask," explained the California lawmaker. "As my colleague said, this photo is not science, this photo is political science."
Stacey Abrams, a popular Democratic politician, spent the day maskless with a room full of masked schoolchildren. The school principal later deleted the tweet photographing the event. pic.twitter.com/PlXixiACpO

— Michael P Senger (@MichaelPSenger) February 6, 2022
Republicans on the House Rules Committee also called to support a bill to unmask school children proposed by congresswoman Ashley Hinson (R-Iowa).
"One, schools can not receive federal dollars if they enact wide reaching mask mandates," said the Iowa representative. "They have to allow parents to decide whether their child will wear at mask at school. And two, parents have to have an in-person learning option. Schools must offer an in-person learning option. Our kids deserve normalcy, they deserve a chance to learn in-person, they deserve a chance to play with their friends at recess."
FLOOR ALERT: Although data shows masks in school cause more harm than good, @HouseDemocrats refused @HouseGOP requests to consider @RepAshleyHinson's bill empowering parents to opt-out of anti-science mask mandates for their kids. #UnmaskOurKids pic.twitter.com/4AX5iPNlG3

— House Rules Republicans (@RulesReps) February 8, 2022
McCarthy said Democrats want people to believe they "trust the science," but in reality they are just playing politics and don't follow their own rules.