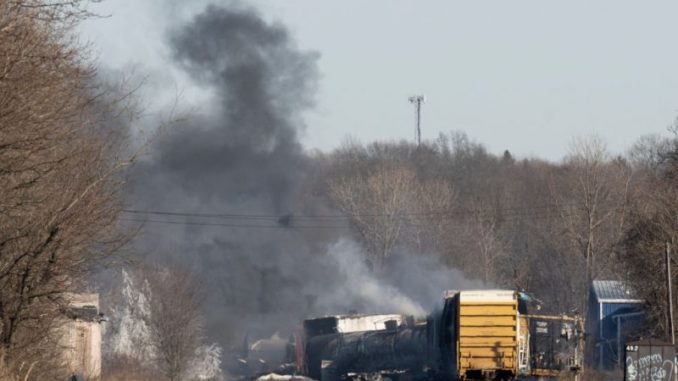 OAN Geraldyn Berry
UPDATED 6:25 PM PT – Monday, February 6, 2023
Residents in northeastern Ohio who live close to the location of a derailed train have been told to evacuate as authorities get ready to unleash poisonous chemicals in a "controlled release."
This comes three days after a 150-car train carrying hazardous chemicals, called vinyl chloride, derailed in northeastern Ohio. Vinyl Chloride is highly flammable and is linked to an increased risk of cancer. According to National Transportation Safety Board member Michael Graham, at least five of the derailed cars were said to be carrying the chemicals.
During a news conference, Ohio Governor Mike DeWine (R-Ohio) announced that vinyl chloride would be released on Monday. He also let the public know that an evacuation order is set in place for anyone within a one-mile (1.6km) radius of the site in East Palestine.
"The vinyl chloride contents of five rail cars are currently unstable and could potentially explode causing deadly disbursement of shrapnel and toxic fumes. To alleviate the risk of this shrapnel, Norfolk Southern Railway is planning a controlled release of the chemical at 3:30 p.m. The controlled release also has the potential to be deadly if inhaled," DeWine said.
The governor showed a model of the area surrounding East Palestine. The image displayed the risk in which people are affected depending on their location. People in a farther-off yellow zone run the risk of suffering "severe lung injury" if they don't escape, those in a red zone that is near to the derailment are in "grave danger of death."
On Sunday, after DeWine's office warned that unstable temperatures in a vehicle containing chemicals could cause an explosion, concern about the chemicals in the derailed train increased.