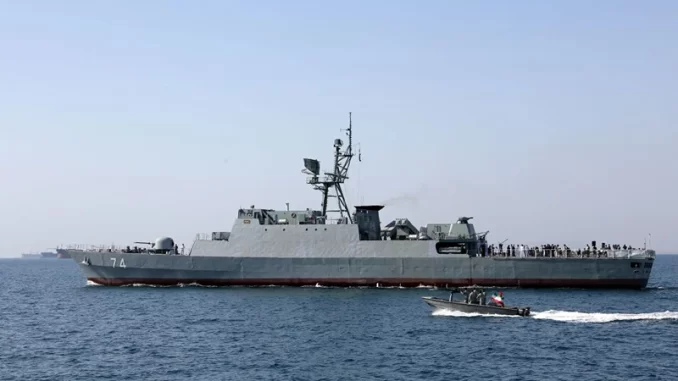 OAN Roy Francis
UPDATED 8:11 AM PT – Wednesday, February 1, 2023
The United States is reportedly tracking "warlike" announcements by the Iranian regime that it is sending warships to the Western Hemisphere.
Two military ships have been deployed from Iran to Brazil, and will soon head to the Panama Canal. The regime had previously declared that it will establish a military presence in those two areas.
"Iran's 86th flotilla warships is now sailing along the western shores of Latin America, the Navy second-in-command said." The Tehran Times reported on Saturday.
The commander of the Islamic Republic's navy, Rear Admiral Shahram Irani had, in early January, talked about their plans for the near future.
"We have been present in all the strategic straits of the world, and we have not been present in only two straits," he said. "in one of which we will be present this year, and we are planning to be present in the Panama Canal."
The Tehran Times also reported that Iranian Rear Adm. Hamzeh Ali Kaviani told Press TV that their ships will dock in Rio de Janeiro, Brazil.
"Iran's military might is increasing day to day despite all the pressures against the Islamic Republic over the past 43 years," he added.
The Iranian newspaper said that the two ships are the Dena, and Makran.
The Dena is a Mowj-class warship that is "equipped with anti-ship cruise missiles, torpedoes and naval cannons."
"Makran is a forward base ship weighing 121,000 tons," the paper also reported. "the warship can carry five helicopters and is employed for providing logistical support for the combat warships."
On Saturday, Iran revealed that they had also developed new maritime combat helicopters that will also be sent to the area as well. This is part of their development by sea Rear Admiral Irani reported.
Iran has been building up their relations with Southern American countries as a strategic part of their economic plan. As well as seeking to build up a military presence in the Western Hemisphere.
U.S. officials say that the regime's military presence in the Panama Canal will like cause interference in the vital shipping transport passage and could damage U.S. trade.
The global economic trade will likely also be affected as 16 percent of the world's shipping travels through the strait.