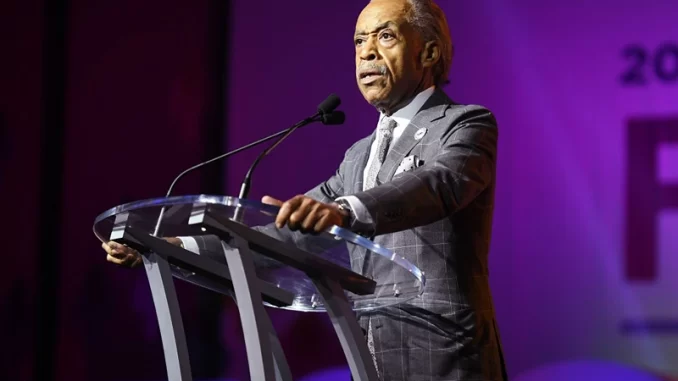 OAN Roy Francis
UPDATED 2:13 PM PT – Wednesday, February 1, 2023
Alfred Charles Sharpton Jr. also known as the Reverend Al Sharpton attended and gave a eulogy at the funeral service of Tyre Nichols on Wednesday.
The funeral of Tyre Nichols was held on Wednesday in Memphis, Tennessee. Those who were in attendance included Vice President Kamala Harris, White House Director for the Office of Public Engagement Keisha Lance Bottoms, Senior Advisor to the President Mitch Landrieu, as well as Al Sharpton, who had been chosen to deliver the eulogy.
The plans for Sharpton to speak at the funeral were made when his organization, the National Action Network, called Nichols' parents and offered their support after his death. He was then asked to give the eulogy and he accepted it.
He spoke for about 20 minutes to a crowd of about 400 people who cheered him on, some standing with raised fists. The funeral service was nationally broadcasted across major news networks.
During his speech, Sharpton called out the five black officers who had been charged in the death of Nichols, saying that they had betrayed their brother and everyone who had worked to help get them where they are, as well as calling what they did "insulting and offensive."
"There's nothing more insulting and offensive, to those of us that fight to open doors, that you walked through those doors and act like the folks we had to fight for to get you through them doors," he said. "you didn't get on the police department by yourself."
He also called out the entire police department claiming that they keep the crime down on the "white side" of town and treat them better and with more respect than in the black community.
He went on to say that he believes if Nichols had been white, then "you wouldn't have beat him like that."
The highly controversial figure, along with his organization, have been known to be involved in occasional national protests to further their cause.
He had organized marches after the death of Tanya McDowell, Taryvon Martin, Eric Garner, and George Floyd. He has delivered eulogies at several funerals that has garnered nationwide attention.