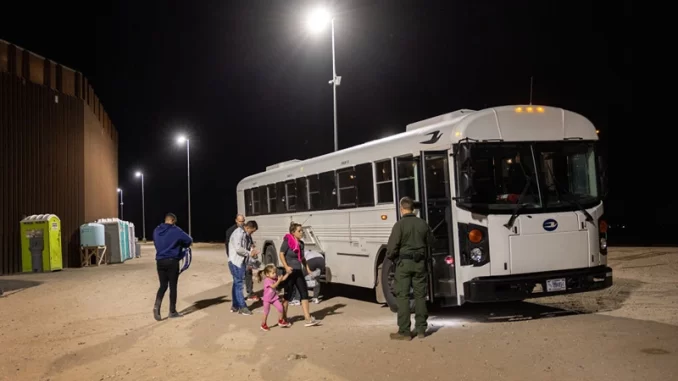 OAN Roy Francis
UPDATED 8:52 AM PT – Friday, January 26, 2023
New York Republican members of Congress have sent a letter to President Joe Biden demanding answers for his handling of the border, and illegal immigrants within the country.
Representatives Claudia Tenney (R-N.Y.), Elise Stefanik (R-N.Y.), Michael Lawler (R-N.Y.), Nick Langworthy (R-N.Y.), and Marc Molinaro (R-N.Y.) are demanding answers on immigrants who have been shipped all across the country in secrecy by the Biden Administration.
"We write following reports that your administration is actively settling migrants in Upstate New York communities," the letter to the White House said.
The Republicans added that they are deeply concerned that the influx of migrants will "overwhelm the local services and infrastructures."
Stefanik said that the Biden administration's handling of the border has been a mess and it has essentially made every state a border state. She added that cities across the country are "being punished for Biden's border crisis."
The members of Congress have previously sent a letter in January 2022 asking the White House to stop moving migrants across the country. The letter was ignored.
They cited the previous letter and asked Biden to again halt the moving of migrants, especially since the administration is not providing any transparency about their actions.
"Yet, your administration to this day, continues to transport these migrants without providing any transparency to the American people," the letter stated. "We urge you to stop this obstinance and immediately halt your administration's moving of illegal migrants to our state. "In addition, we wish to express our outrage at the secrecy with which your administration has and continues to carry out these national relocation operations."
The letter is sent after New York City Mayor Eric Adams declared a state of emergency due to the increasing numbers of migrants arriving into New York from the southern border.
Last week Mayor Adams said that they have no more room within the city and that it is "time for the national government to do its job."
In the letter, the Republicans have asked for answers on the numbers of migrants, and locations they were sent to, and where they will be relocated to moving forward.
The members of Congress said that if their questions are not answered, then federal funding could be withheld.