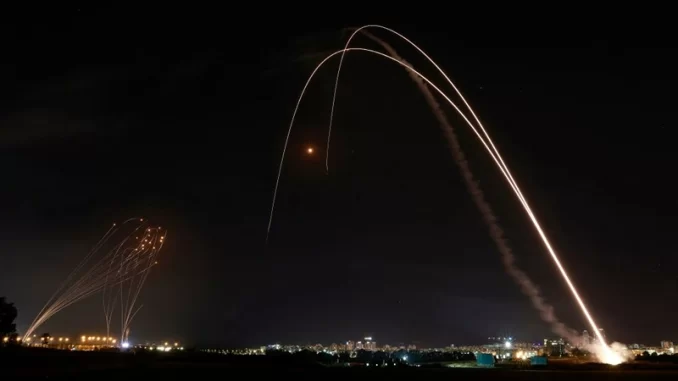 OAN Roy Francis
UPDATED 7:38 AM PT – Friday, January 26, 2023
Five missiles were launched into southern Israel from the Gaza Strip in two separate strikes, one shortly before midnight on Thursday, and the second early Friday morning.
Rocket sirens sounded in the southern city of Ashkelon, along with the towns of Zikim, and Karmia on Thursday night, and Friday morning as the missiles were launched into the area.
Both missiles from the first strike were intercepted in the air around midnight by the Iron Dome Defense System.
The second strike was also unsuccessful with one missile intercepted in the air, one falling within the Gaza Strip, and the third falling into an empty area in Israel. No injuries or damages were reported.
The missile attacks came after an Israel Defense Forces (IDF) raid against a Palestinian Islamic Jihad cell in the northern part of the West Bank in the city of Jenin.
The city of Jenin is known by Israeli military officials as an area for terrorist activity, and has been the focus of many of the raids due to the activity of Hamas in the area.
The raid was conducted against a terrorist cell within the city, leaving nine dead, and one arrest, with no Israeli injuries. This was part of the anti-terror offensive by Israel focused on the northern part of the West Bank that had began after a series of attacks were conducted against Israel in 2022 that left 31 people dead.
Reports say that the terrorist cell had been "heavily involved in planning and executing multiple major terrorist attacks on Israeli civilians and soldiers" and was planning to carry out more attacks on civilian targets in Israel.
After the raid was conducted, Israeli defense officials say that they were ready for any retaliation that might come.
Following the missile strikes from the Gaza Strip, Israel conducted a series of attacks on Friday morning. Their targets were structures that are used to construct missiles within the Hamas controlled area.
No injuries were reported from either side, however, Palestinian authorities have said that they are ending the security coordination with Israel.