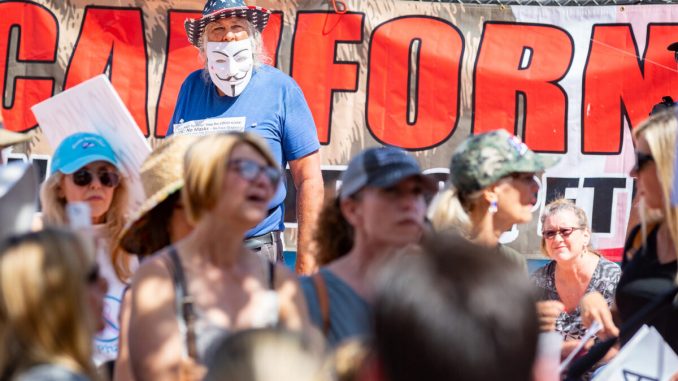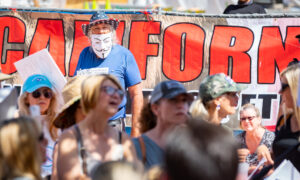 Hundreds of speakers during an Orange County Board of Supervisors meeting May 25 called on the elected officials to terminate the county's local health emergency and pass a resolution denouncing a vaccine verification system.
The supervisors voted to let the local health emergency stand.
About 200 people gathered outside the board's Santa Ana, Calif. chambers during the May 25 meeting. Two weeks prior, a rally of more than 700 people gathered there to oppose a digital vaccine verification system, which the board voted to halt.
"We're here because we stand for freedom, something that you guys are infringing upon, including our civil liberties," one public commenter said.
The board's move to continue the local health emergency will last for 30 day before reaching another renewal period.
Supervisor Don Wagner said the board and administration's hands are tied due to state health orders.
"We don't get to make that policy," he said. "We don't mask the kids and unmask the kids. We've never ordered masks. We can't order them to be lifted."
Wagner said if the board decides to lift the emergency order in Orange County, two things will happen: the county may lose state funding to help individuals and businesses, and state law would restrict the county from opening.
"The state handling of coronavirus has been horrific," Wagner said. "We can look at other states and we can see their rates and how they're handling things and how free and open they are, and we can wish to God we had a governor like that, but we don't—at least not yet."
Many public commenters during the meeting called on the board to pass a resolution prohibiting any vaccine verification system by any business or government establishment.
"My body my choice," one public commenter said. "If I don't want a shot, I shouldn't be required to get it and I shouldn't be coerced."
Orange County Health Care Agency director Dr. Clayton Chau said there is no mandate, and added the county is not allowed to give vaccine mandates.
"There's no coercion whatsoever," Chau told attendees. "Our goal is to educate and give the community the facts, and have parents make the informed choice."
Chau said he is working with his collogues to develop guidance for K-12 students in the coming weeks.
He said the county intends to offer in-person  instruction to children by the fall semester.
"Students lose their opportunity to learn how to socialize with each other [and] with the adults when they are doing online education; but we can't discount the fact that this virus puts children with chronic health conditions at risk, and then puts families with elderly and individuals with chronic health conditions at risk if they have a youngster in their family exposed to a situation where they have more likelihood of getting the virus."
Many public commenters were concerned about the side effects of the vaccine, which some called fatal.
Chau responded to such claims, "To date, there has not been a case of death associated with the vaccine in Orange County. There are 10 cases under investigation, and it does take time because the process takes a long time, but today there has not been a confirmed case of death related to the vaccine."
Some attendees made mention of an effort to recall the board of supervisors.
"Today you are being served notice of an intent to circulate a petition for recall," a public commenter said. "You have betrayed the public trust. We need a new direction in this county."
Jackie Wu, spokesperson from the Orange County Registrar of Voters, said there was an attempt to file a recall for the Orange County Board of Supervisors, however it was rejected because it failed to meet the legal requirements.
"When this typically happens, they'll try again … however, we don't know if they are going to do that or when," Wu told The Epoch Times.