WASHINGTON—Former Sen. John Warner of Virginia has died of heart failure. He was 94.
Warner died late on Tuesday, with his wife and daughter at his side, his chief of staff Susan Magill said in an email to family and friends, according to a Politico report on Wednesday. The Washington Post said he died in Alexandria, Virginia.
"The country has lost a great patriot. Senator John Warner was a hero in the military, a respected leader in the Senate and an inspiration to all with his joy for life," House Speaker Nancy Pelosi (D-Calif.) said in a statement.
Senate Majority Leader Chuck Schumer (D-N.Y.) ordered flags on the Senate side of the U.S. Capitol lowered to half-staff to honor Warner, a spokesman said.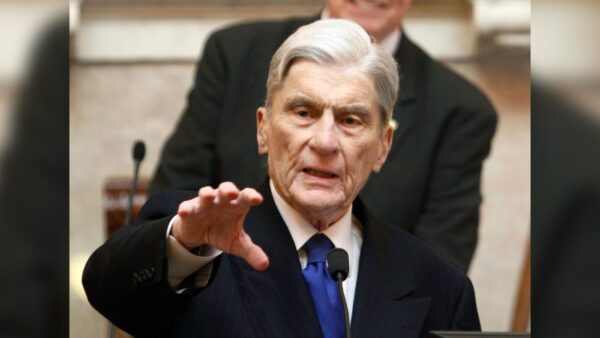 Warner served in the Senate for five terms from 1979 to 2009.
Senate Minority Leader Mitch McConnell (R-Ky.) said his fellow Republican had been "one of this body's foremost voices on national defense."
Warner, who enlisted in the Navy during World War II at the age of 17, also served in the Marine Corps in Korea. He was secretary of the Navy from 1972-74 in President Richard Nixon's administration.
He was the sixth husband of actress Elizabeth Taylor.