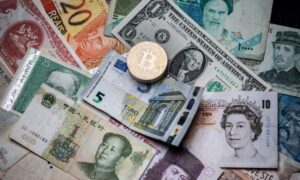 After increasing in value for months, cryptocurrencies, led by Bitcoin, have recently depreciated across the board. Chinese state media admitted that it's directly related to two recent moves by Beijing financial authorities.
The first major action was on May 18, when National Internet Finance Association of China, China Banking Association, and Payment & Clearing Association jointly issued a statement on preventing the risks of speculation in virtual currency transactions, saying that speculation in virtual currency transactions "disrupts the normal economic and financial order." It asked its members to "resolutely not carry out or participate in any business activities related to virtual currency."
The second major action was that on May 21 the CCP's Financial Stability and Development Commission under the State Council reiterated at its meeting that it would "crack down on Bitcoin mining and trading activities" and described it as "cracking down on securities violations and punishing illegal and criminal activities in financial activities."
Cryptocurrencies Keep Depreciating
According to real-time statistics from CoinMarketCap, as of the early morning of May 23, Beijing time, the total market value of global cryptocurrencies fell to $1.74 trillion from $2.51 trillion two weeks ago, a drop of 30.7 percent.
Among them, the former top three currencies, Bitcoin (BTC), Ethereum (ETH), and Binance Coin (BNB), have all dropped in value in the past two weeks. The price of BTC has dropped from more than $50,000 to $38,000.
Only the USDT stablecoin, which is backed one to one with the U.S. dollar, maintains a market capitalization of $59.5 billion, overtaking Bitcashpay and reaching third place on May 23. But its trading volume fell on the same day, from at least $166 billion a day two weeks ago, to $148 billion in 24 hours.
Billions in Gambling Funds Flow Out of China Every Year
The statement is actually implementing the spirit of the Chinese Communist Party's (CCP's) April 23 meeting about "cracking down on the cross-border gambling fund chain."
Fan Yifei, deputy governor of the People's Bank of China, said at the meeting that targeted measures should be taken to strengthen risk prevention measures against money laundering through online gambling schemes, e-commerce platforms, and other new methods such as using virtual currency and blockchain technology to escape fund traceability.
Online money laundering schemes usually involve depositing money taken from a valid user's bank card or WeChat Alipay payment code into a betting account, and then gambling small amounts with an online casino. The scheme generally uses virtual currency when emptying the account, which makes it easier to carry out cross-border money laundering undetected.
According to the CCP's official media, the huge number of online money laundering transactions in China is driven by the extremely high capital flow demand for cross-border online gambling platforms. By the end of 2020, China had investigated 14,000 cases of cross-border gambling.
Liao Jinrong, the International Cooperation Bureau director of the CCP's Ministry of Public Security, confirmed in September 2020 that according to a preliminary investigation, gambling-related capital flight alone exceeded $167 billion every year.
In September 2019, an online money-laundering scheme in Hangzhou, China, was found to have transferred more than $7.8 billion in three months, with $2 billion in laundered funds per month on average.
Huge Amounts of Money Flowing Out of China Via Cryptocurrencies
The world's largest cryptocurrency trading platforms, Binance, Huobi, and OKEx, were all founded in China and backed by Chinese capital. Binance, the largest in the world, has moved its servers and staff overseas and has made every effort to grow in the U.S. market since September 2017, when the CCP introduced laws to rigorously regulate cryptocurrency trading. However, the majority of its users, who mostly engage in over-the-counter (OTC) cryptocurrency trade, are still from China.
Sino Global Capital said in a report published in 2020 that "OTC trading is a huge market in China, much bigger than people think," and that most exchanges offer a range of OTC trading options, although USDT is the most popular way for Chinese investors to trade cryptocurrencies.
These OTC traders generally have accounts with cryptocurrency-friendly banks in Western countries, including Silvergate and Deltec. Deltec has the same reserve bank as Tether, the parent company of USDT, so these OTC traders can buy USDT directly from Tether, thus converting the Chinese Yuan into U.S. dollars and other Western currencies.
A research report published by data analysis website Coin Metrics in May 2020 found that the main trading venues for USDT are two Chinese cryptocurrency trading platforms, Binance and Huobi. 
According to a 2019 survey of crypto transactions, reported in 2020 by the blockchain forensics company Chainalysis, more than half (52.2 percent) of the funds associated with criminal activity were transacted through Binance and Huobi.
In addition, according to the 2020 Annual Digital Currency Anti-Money Laundering Report released by blockchain security company PeckShield, the value of unregulated cross-border virtual currency trading in China reached $17.5 billion in 2020, up 51 percent from $11.4 billion in 2019, and continues to grow rapidly.