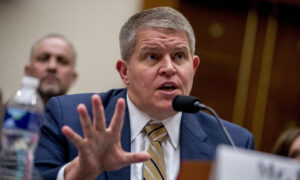 David Chipman, the White House's nominee to lead the Bureau of Alcohol, Tobacco, Firearms and Explosives (ATF), said that he supports a ban on AR-15s, one of the most popular types of rifles in the United States.
Chipman, who worked for the ATF and later for gun-control lobbying groups, was asked a series of questions during a Senate hearing on Wednesday.
"Mr. Chipman, a minute ago Senator Whitehouse asked you if any of your views on guns are out of step with the majority of the American people," Sen. Ted Cruz (R-Texas) said. "The AR-15 is one of, if not the most popular rifle in America."
Cruz then asked whether Chipman wants to ban the AR-15.
"With respect to the AR-15, I support a ban as has been presented in a Senate bill and supported by the president," he said.
Chipman added that the AR-15 "is a gun I was issued on ATF's SWAT team," adding that "it's a particularly lethal weapon, and regulating it as other particularly lethal weapons, I have advocated for."
Chipman then said that he would "enforce the laws on the books" if he was the director of the ATF, which is overseen by the Department of Justice. "Right now, there is no such ban on those guns," he added.
It's not clear exactly what proposed ban he supports. In March, 35 Senate Democrats led by Sen. Dianne Feinstein (D-Calif.) introduced legislation to ban "assault weapons" including AR-15-style semi-automatic rifles.
Chipman was also asked by Sen. John Kennedy (R-La.) if he could define an "assault weapon" and couldn't.
"I got 35 seconds left, define it for me, would you please, sir. What's an assault weapon?" Kennedy asked Chipman.
"There's no way I could define an assault weapon," Chipman said. "I'll give you one definition that ATF currently uses," Chipman then said before Kennedy interjected and questioned why he should lead the ATF if he struggles to define the term.
Over the years, the term "assault weapon" has become increasingly politically and legally contentious—as there are shifting definitions for what it actually entails.
During the hearing, Sen. Tom Cotton (R-Ark.) noted that Chipman's comments illustrate that "there really is no such thing as an assault weapon," alleging it is a politically loaded term that was crafted by "lawyers and pollsters in Washington."
Firearms industry trade group the National Shooting Sports Foundation estimates that about 20 million "modern sporting rifles," which some refer to as "assault rifles" or "assault weapons," have been imported or produced between 1990 and 2018.
Meanwhile, over the past year or so, record numbers of Americans have been purchasing firearms. The FBI's data shows that the week of March 15 to March 21 was the top week for FBI background checks since at least 1998.
Gun control advocates and many Democrats have said that there need to be more restrictions on the sale of AR-15s in the wake of several deadly mass shootings. On Wednesday, a gunman opened fire at a Northern California railyard, killing at least eight, according to deputies.