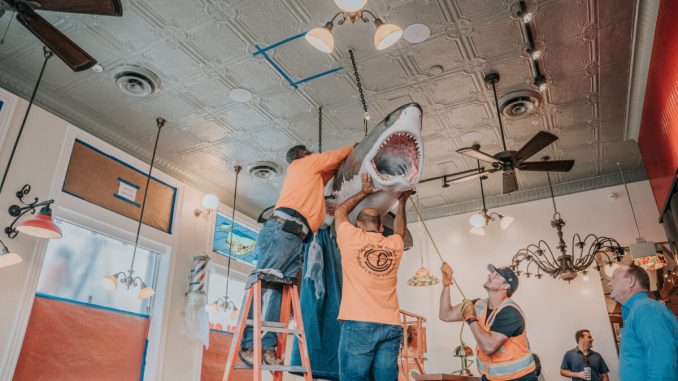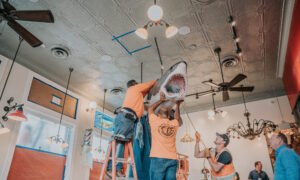 NEWPORT BEACH, Calif.—One of Newport Beach's oldest seafood restaurants is set to reopen in July after almost three years of construction to rebuild the iconic red building.
Crab Cooker is known for its casual atmosphere, serving up premium seafood and homemade specialties such as smoked fish and its famous clam chowders served on disposable plates.
The Balboa Peninsula building, formerly home to a Bank of America, was originally erected in 1938, and has been home of the Crab Cooker since 1951.
In 2014, the historic restaurant's foundation was severely damaged due to the construction of an adjacent condominium project.  he damage was so extensive that the expense to fix it made rebuilding a better option for Crab Cooker owner, Jim Wasko, and his family. They made the decision to demolish and rebuild the building instead of trying to renovate.
The family was committed to rebuilding the structure to look as closely to the original Crab Cooker as possible, complete with its brightly-painted red exterior and fish sign that reads "Don't Look Up Here" hanging above its rooftop.
"We've been really pleased with how it's turned out," Wasko told The Epoch Times. "The city's been great working with us, because it is such an iconic building there were some challenges, but they have allowed us to recreate it to include most of the features that gave it so much character in the first place."
The process of deciding how to handle the situation after the damage was discovered took some time and consideration given the age and history of the building. Once the family decided to completely rebuild, the process of design and permitting had to be tackled.
Wasko said that there were a lot of significant unknowns about the building that had been operating as a nonconforming business for close to 70 years before it shut down. Back when they had to make the decision, he said he expected they would be closed for almost three years.
"We just wanted to get back doing what we do, serving the public," Wasko said.
After demolition of the old building was complete, the construction project began but suffered an eight-month setback in 2019 due to plumbing issues. That unexpected delay was immediately followed by the COVID-19 pandemic closures, forcing a limited number of construction workers at any given time to meet social distancing requirements.
During the pandemic, Wasko and his family went without pay in order to keep their existing staff on board, some who have worked with the family for nearly 40 years.
Seeking Job Seekers 
Fast forward to May 18 when the Crab Cooker held a job fair in its parking lot in anticipation of its reopening, tentatively scheduled for July. Finding top talent to staff the restaurant has proven challenging with the continuance of government stimulus resulting in a decrease in job seekers.
"We had a pretty good turnout but it's been a challenge to some degree because it takes a few weeks to get a team up to speed once we hire them," Wasko said.
"Everyone is working really hard to make sure the reopening is a big success and that all our loyal patrons have a terrific experience after being closed so long."
Originally owned and operated by Bob Roubian, Wasko's late father-in-law, the Crab Cooker became known for Roubian's unique method of preparing and cooking his seafood dishes atop a large mesquite broiler, as well as the fanciful décor he propagated inside and out over the years.
His cooking method was derived as a way to simply enhance the delicate flavors of quality seafood with light seasoning, cooking everything over the grill for a more healthful offering for his customers. In a unique twist for its time, guests could watch their seafood being cooked through glass windows as chefs grilled over a large mesquite-fired grill, a tradition that will continue at the new restaurant.
"My father-in-law had a terrific sense of humor, he was very creative, he wrote music, painted, sculpted, loved to cook, a Jack-of-all-trades really," Wasko said.  "His art and found objects collection will continue to hang on the walls, and of course, we've rehung the huge shark that hangs over the dining room, that's everyone's favorite—back by popular demand."