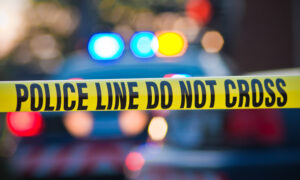 Officials in North Carolina said that a 10-month-old child was killed by two family dogs while the father left the baby unattended for a moment.
The incident, involving two Rottweilers, took place at 8 a.m. in Willow Spring, North Carolina, when the father went outside to move a yard sprinkler, Johnston County Sheriff's Office Capt. Danny Johnson told WTVD-TV.
"The father had left the small child inside the residence unattended for only a couple of minutes, he heard a lot of commotion in the house, went back inside and found the baby unresponsive," said Johnson at the scene of the dog attack.
Officials said the father, who was not identified, called the police for help. When deputies arrived on the scene, they attempted to perform CPR but were not successful in resuscitating the child.
Emergency medical services arrived shortly afterward and were also unable to revive the child, Johnson added. The baby was pronounced deceased at the scene of the incident.
"The Sheriff's Office and EMS responded but were unsuccessful on reviving the child," he added. "It appears the family's dogs attacked the child and that is the reason for [the child's] death."
Johnson said the attack was quick, and the father was outside for "not even a couple of minutes."
The two dogs have been seized by animal control officers.
"Anytime that a young child like that passes — or any child — it is very hard in us all because we all have children. Our thoughts and prayers go out to the family. We can't imagine what they are going through. They've got a long road ahead of them," Johnson added.
Other details about the case were not provided.
While dog bite fatalities are rare in the United States, a study from the U.S. Centers for Disease Control (CDC) between 1979 and 1996 suggested that the pit bull breed/type was involved in 60 fatal incidents—the most—while Rottweilers were involved in 29 similar incidents, or the second most. German Shepherds were No. 3 with 19.