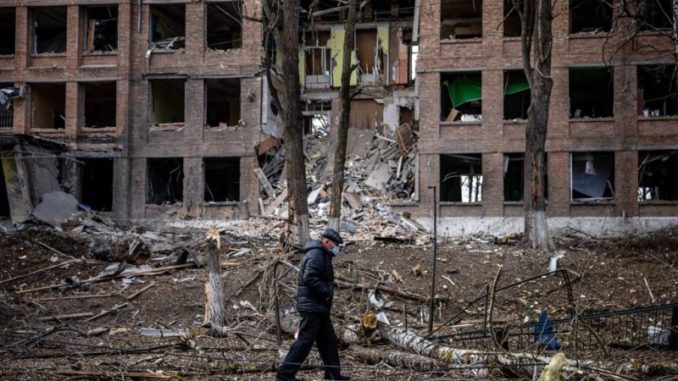 OAN Roy Francis
UPDATED 9:33 AM PT – Thursday, January 26, 2023
Just hours after Germany and the United States announced their plans to give Ukraine new tanks, Russia launched missiles at Kyiv and other Ukrainian cities.
The attack prompted Ukraine to urge the West to get the military equipment into the hands of its troops as soon as possible.
On Thursday morning, Russia fired 55 missiles towards Ukraine, according to the Ukrainian Prime Minister Denys Shmyhal.
According to Shmyhal, the attack was directed against the nation's "energy facilities," and several power substations were hit.
"The main targets were energy facilities to deprive Ukrainians of power and warmth," Shmyhal said. "The majority of missiles and drones were intercepted by our defenders. Unfortunately there were hits at substations. Nevertheless the situation in the power grid remains under control. Power engineers are doing everything to provide power supply."
After the missile attack, power outages had occurred across the Kyiv region.
According to the mayor of the city, there was one fatality in the capital, along with more in other cities, and an air raid alert was in effect for the entire nation.
The victim in the capital was 55 years old and had died "due to the fall of missile fragments," the chief of the Military Administration for the city of Kyiv, Serhiy Popko, noted.
Fifteen attack drones were fired over the city on Thursday. Popko accused Russia of using the Iranian-made drones that were sent to Ukraine overnight to distract Ukrainian air defenses.
"Aimed not only at hitting targets on the ground," he said. "According to the new tactics of the aggressor, the drones constitute the first wave of a combined air attack for detecting and exhausting Ukrainian air defense."
The assault comes after Russian anger with the West's decision on Wednesday to send heavy battle tanks to Ukraine to help them fight back against Russian forces.
"The key thing now is speed and volume," Ukrainian President Volodymyr Zelenskyy said on Wednesday. "The speed of training of our military, the speed of supplying tanks to Ukraine. The volume of tank support."
The United Kingdom is sending Challenger tanks to Ukraine which are set to arrive by the end of March, and Germany has pledged to send 14 of its Leopard 2 tanks which are estimated to arrive by April.
The United States has also pledge 31 M1 Abrams tanks, but the delivery of those units is expected to take longer to complete due to their complexity and the transportation across the Atlantic.