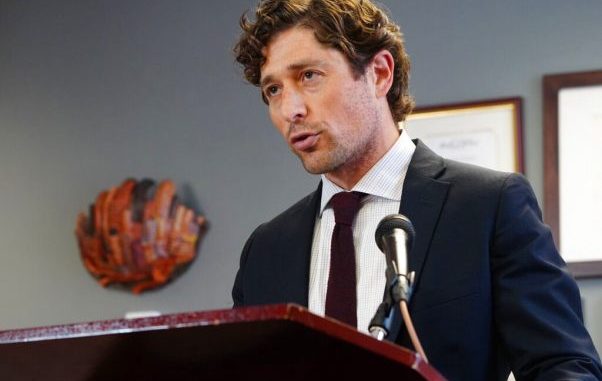 OAN Newsroom
UPDATED 9:16 AM PT — Friday, May 29, 2020
Police and other forces are regrouping after protests continued in the city of Minneapolis. In a briefing Friday morning, the mayor of Minneapolis called the violent demonstrations "dangerous" and "unacceptable." Protestors gathered by the thousands Thursday night as they burnt down the city's third precinct police station.
Arson, looting and vandalism have taken ahold of the streets with protesters enraged over the recent death of George Floyd. The late Floyd was as African-American man who died while being detained by a white officer who kneeled on his neck.
"There is a lot of pain and anger right now in our city, I understand that, our entire city recognizes that," said Mayor Jacob Frey. "What we have seen over the past several hours and the past couple of nights in terms of looting is unacceptable, our communities cannot and will not tolerate it."
The mayor said police and response forces will continue to do their job and protect businesses from vandalism. Additionally, the governor of Minnesota also activated the National Guard to help bring civil order back to the city.
We are working with @MinneapolisFire to deliver resources and respond for a beloved neighborhood in our city. We all need to work together to ensure the safety of our friends, family, and Minneapolis residents. And right now working together means clearing the area.

— Mayor Jacob Frey (@MayorFrey) May 29, 2020
In a tweet Friday, the White House quoted one of the president's tweets that had previously been flagged by the social media company with a warning suggesting it was "glorifying violence." President Trump's post had criticized the rioters by calling them "thugs" who were were dishonoring the memory of Floyd.
"These THUGS are dishonoring the memory of George Floyd, and I won't let that happen. Just spoke to Governor Tim Walz and told him that the Military is with him all the way. Any difficulty and we will assume control but, when the looting starts, the shooting starts. Thank you!" https://t.co/GDwAydcAOw

— The White House (@WhiteHouse) May 29, 2020
The White House also shared one of the president tweets in which he called on the Minneapolis mayor to get his city under control or he would otherwise send in the National Guard.
I can't stand back & watch this happen to a great American City, Minneapolis. A total lack of leadership. Either the very weak Radical Left Mayor, Jacob Frey, get his act together and bring the City under control, or I will send in the National Guard & get the job done right…..

— Donald J. Trump (@realDonaldTrump) May 29, 2020