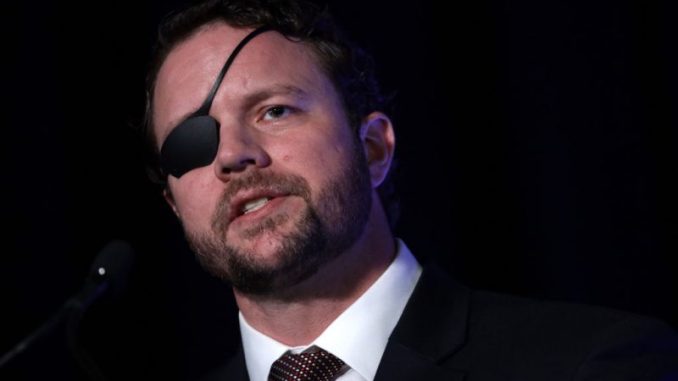 OAN Roy Francis
UPDATED 8:33AM PT – Thursday, January 26, 2023
Representative Dan Crenshaw (R-Texas.) introduced a bipartisan bill that would make it possible for firearm companies to appeal the Bureau of Alcohol, Tobacco, Firearms, and Explosive (ATF) decisions.    
Crenshaw reintroduced the ATF Accountability Act on Tuesday, previously having introduced it to a Democratic majority in the House last year.
The aim of the bill is to create an avenue for firearm companies and other related businesses to be able to appeal rulings by the ATF that harm businesses or more importantly, oppose Second Amendment rights.
"Anti-gun govt bureaucrats shouldn't block Americans from exercising their fundamental rights," he said on Twitter. "This is why I'm reintroducing the ATF Accountability Act to push back on ATF classification letter rulings that harm small businesses or infringe on 2A rights."
The bill comes after the ATF's new ruling which restricted regulations on pistol stabilizing braces. The new rules classified pistols with such braces as short-barreled rifles, and that a federal license is required to own one.
"We saw this most recently with a new rule banning the use of pistol braces a shameless slap in the face to disabled veterans," Crenshaw said. "My bill will establish an appeals process that brings ATF in line with most other federal regulatory bodies, and allows small business owners an avenue to fight these unconstitutional attacks without having to spend tens or hundreds of thousands of dollars challenging the federal government in court."
Classification letters from the ATF are considered to be binding by the agency, and allow no formal appeals process. The Texas Republican is aiming to change that with his bill. It establishes the process for firearms dealers, importers, and manufacturers to appeal ATF rulings.
The measure also requires that the Attorney General must answer inquiries within 90 days.
Representative Henry Cuellar (D-Texas) backed the ill, bringing in support from the opposite side of the aisle within the House.
The rule about stabilizing braces is part of a gun crime strategy that President Joe Biden had announced in April of last year. Attorney General Merrick Garland had said that stabilizing brace accessories make pistols deadlier, essentially making them short-barreled rifles.
"Keeping our communities safe from gun violence is among the Department's highest priorities," he said. "Almost a century ago, Congress determined that short-barreled rifles must be subject to heightened requirements. Today's rule makes clear that firearm manufacturers, dealers and individuals cannot evade these important public safety protections simply by adding accessories to pistols that transform them into short-barreled rifles."
The rule was met with major backlash from Republicans, with some seeing it as an overstep by the agency. Representative Matt Gaetz (R-Fla.) had also recently introduced a bill that would entirely abolish the ATF in response to the rule.